It is counted among the most beautiful villages in Italy, by some it is even considered the most beautiful, and visiting it is to be believed: Tenno canal, on the Trentino side of Lake Garda and a stone's throw from the lake of the same name, is a corner of the Middle Ages. An agglomeration of art and history, which leads straight to the twelve hundred. And that makes you want to stop, to fill your eyes with its beauty.
Canale di Tenno, the history
Borgo di Villa del Monte, in turn a hamlet of Tenno, Canale di Tenno is a medieval village. It is located at an altitude of 600 meters, on the hills overlooking Lake Garda, and has a very ancient origin. In fact, its foundation dates back to 1211, with an urban layout that has survived intact to this day. Four streets converge in a small square, the stone houses are leaning against each other, the facades are full of frescoes. And, much of the credit goes to the painter James Vittone. Because Canale di Tenno, abandoned after World War I and slowly resurrected after World War II, was brought to the attention of artists by him. Who immortalized it in his canvases, who told about it with colors, who made it known to tourists who were also attracted by the nearby Tenno lake.
What to see in the village
Canale di Tenno is magical all year round, thanks to the testimonies left by the artists who come here from all over Europe. Its stone houses are adorned with flowers, and the House of Artists still today it hosts creatives from all backgrounds. Inside you can admire dozens of works, and you can attend exhibitions and events. Nearby, the Agricultural Tools Museum teaches how the fields were once worked. Canale di Tenno and the surrounding villages, to be honest, are all to be discovered. Frapporta, for example, it has a long wall that embraces ancient houses. All its buildings are built on the terraces of the Magnone valley and on the rock of San Lorenzo, and the view takes your breath away. On a terracing of Mount San Martino, then, there is a valuable archaeological area. Although, to make Canale a coveted place by tourists, it is above all its lake.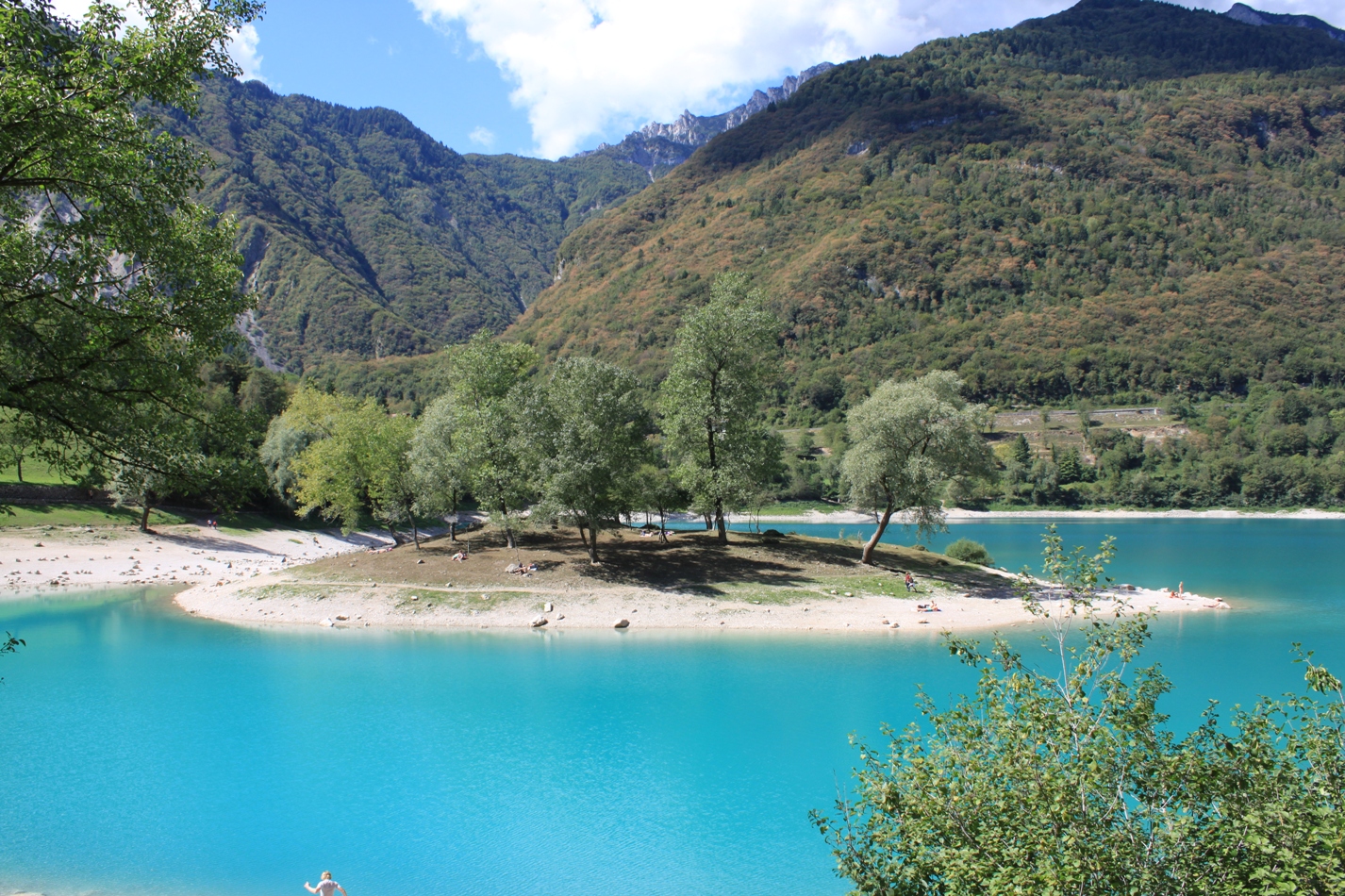 Of volcanic origin, Lake Tenno can be reached from the village via a climb that departs from the parking lot. In its waters you can swim, on the banks you can sunbathe. There is a small bar for refreshment and, in the summer, it is very lively. The walk that leads to the Monte Calino "San Pietro" Refuge is more peaceful, to enjoy a spectacular view of Lake Garda.
Canale di Tenno, typical products and events
There is a time of year when Canale di Tenno looks even more beautiful. And the Rustic Middle Ages, held for ten days in the first half of August. On that occasion, the village involves tourists and residents in events and appointments between good food, culture and folklore. Impossible not to eat there polenta and peverada, dish made from cornmeal polenta and grated stale bread, cooked with a peppered meat broth and accompanied by a few slices of cotechino. A delicious break after a day in history.
Featured photo taken from Wikipedia (credit DavideDossi - CC BY-SA 3.0)
Canale di Tenno, the medieval village located near the lake last edit: 2021-08-09T12:30:00+02:00 da