Adrian Severe, formerly Fabian Aichner, from a village of three thousand souls near Bolzano has become a WWE idol by choosing a highly respected English-speaking art name.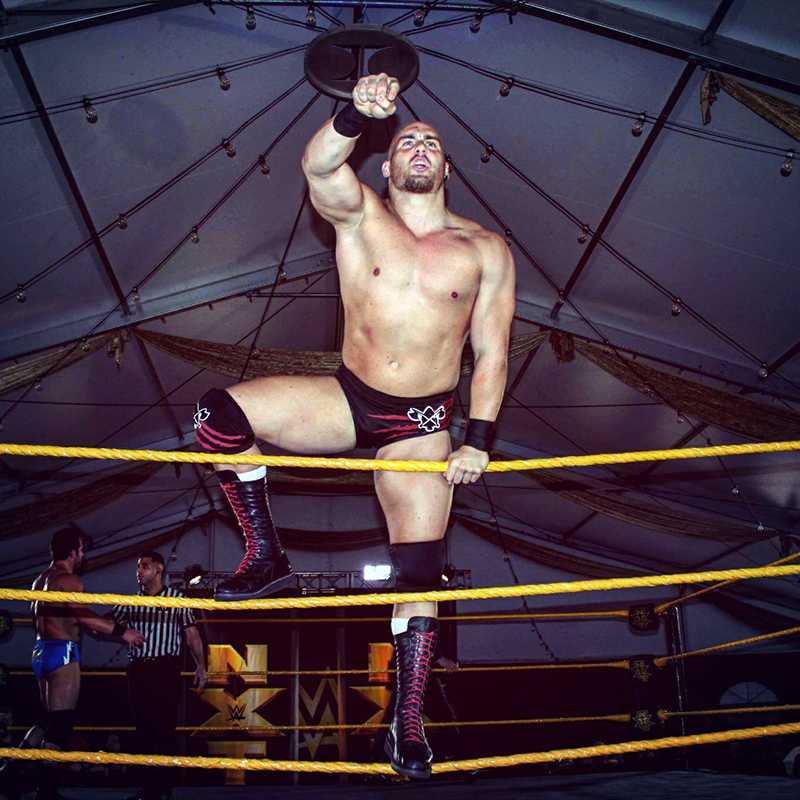 But when, after years of sweat, he graduated champion of category, in spite of that name heterophile, here he is proudly waving the tricolor.
Adrian Severe
Adrian, from Falzes, has become one of the strongest athletes in the world in that sport and show carousel that is wrestling. A real show that for decades has been a heritage of U.S. culture. and that is capable of conquering the hearts of many kids from all over the world. Already between the 90s, the little Fabian sat glued to the screen. Watching TV in Falzes, in the Val Pusteria, in South Tyrol, Fabian goes crazy for those giants who, with the excuse of playing them, do incredible stunts. At just thirteen, in the early 2000s, Fabian has already decided: this is what he will do when he grows up.
His idol in those days is not really a wrestler, but his poster decorates the bedrooms of many future wrestlers like Fabian. Let's talk about Arnold Schwarzenegger. An icon. Fabian worships him and decides to follow in his footsteps by dedicating himself to intense bodybuilding sessions in Germany, just like Arnold, where he will soon take his first real steps in the ring. From Germany it will pass to Great Britain, and therefore to the States. Fabian wants to emulate Schwarzy. In the path and, of course, in the physical.
Adrian Severe alias Fabian Aichner
As a young boy he used to drive four hours every weekend, going to Germany for the privilege of being trained by his coach: Alex Wright, sports and life teacher, attentive and very strict. In wrestling, however, the discipline of the fight is not enough, you need acrobatics, and above all acting.
And Fabian is the wrestling he wants, the ring is not enough, he wants the show, the one he went crazy for in front of the TV. And muscles and fatigue and perseverance allowed it. He did it. An Italian Dream inside The American Dream, an Italian dream inside the American dream. He took the title in the NXT Tag Team Championship, a dream. And even though most of us wonder what this abstruse name can be, we can only rejoice. Tied to his homeland, Fabian is now a celebrity. And in Falzes, three thousand souls, already call it Pride of Italy, Italian pride.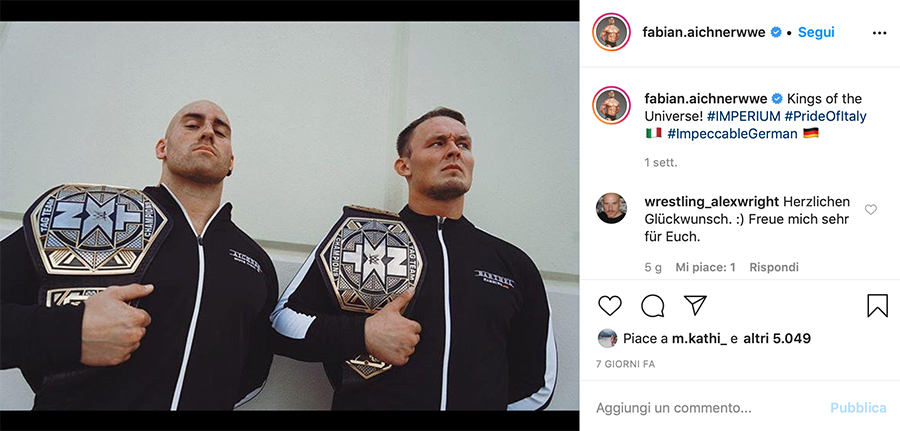 Wrestling
It was since 1977 that an Italian did not reach so high. From the time of Bruno Sammartino, a legend, who emigrated from Chieti when he was fifteen years old, the first – and until the last week the only – Italian welcomed in the Olympus of the acrobatic fight. The show that crowned Fabian was a hit on television, and his triumph almost more bombastic than that of Burno. At twenty-nine, he accepted the title Nxt (as a couple) dedicating it to the young promises of WWWE World Wrestling Entertainment. With words translated for us by the unmistakable voice of Dan Peterson. On his Facebook page instead Adrian wrote directly in Italian, above the photo that portrays him crowned with his partner. A phrase very dear to the country of football: Champions of the world!

It is in fact next to Marcel Barthel that Fabian beat the former champions, the BroserWeights Matt Riddle and Timothy Thatcher. Marcel Barthel is German as the second language of our Fabian – aka Adrian – Pride of Italy, which does not hide the pleasure of waving his flag, as ambassador of southern Tyrol and, until proven otherwise, of Italy.
Adrian Severe the Italian wrestler on the top of the world ultima modifica: 2020-05-25T11:10:00+02:00 da