Baked bruschetta, one of those dishes that everyone agrees. We all remember the bruschetta, during the summer outings for example. In fact, we tie the idea of bruschetta to beautiful moments, holidays with family or friends. There are those who prefer it classic and those who, on the other hand, indulge in seasonings. Those who love the taste of bread choose it carefully. But despite personal taste, everyone's always ready to take a bite. We love it as an appetizer or even as a simple whim. So here are some tips on how to prepare them.

Baked bruschetta: ingredients
Let's start preparing the ingredients to make homemade baked bruschetta. We need:
500 g of bread,
400 g of tomatoes (san marzano, beefsteak or cherry),
Olive oil to taste,
Salt to taste,
3 basil leaves,
1 clove of garlic (small)
How to prepare them
First, let's toast the bread. You can use a traditional bread, or a homemade one. Even the bread left over from the day before is good. Cut the bread into slices. Be careful: slices must be more or less the same size, about half a centimeter thick. Once sliced, we can place them on a baking sheet and put in the oven for a few minutes. Baking them is ideal if you want to present them as an appetizer or as a delicious after dinner. In fact, baked bruschetta are crispy but soften immediately with the tomato juice. Once in the oven we let them toast at 200 degrees for about 10 minutes.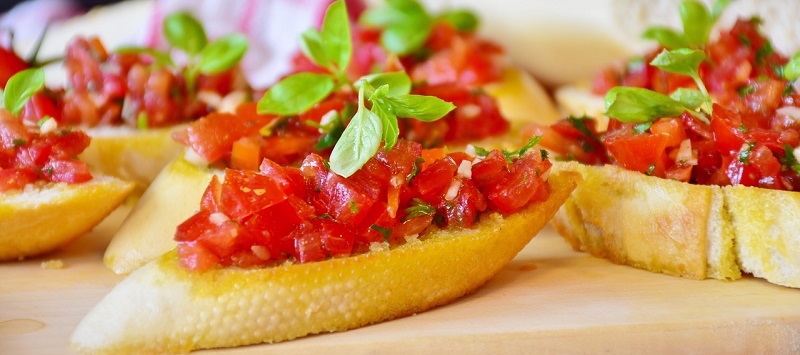 When the slices of bread turn golden brown, they can be removed from the oven. But be careful, better avoid burning them. At the end of cooking, we turn off the oven and let them cool without taking them out. In this way, our slices of bread become crumbly and crunchy.
Baked bruschetta, the taste of simplicity ultima modifica: 2020-06-29T11:44:50+02:00 da
Lascia il tuo voto: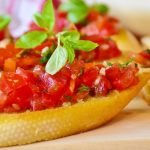 Nome Ricetta
Bruschette al forno, il gusto della semplicità
Nome Autore
italiani.it
Pubblicato il
Tempo Totale
Voto Medio
Based on 1 Review(s)