Cuttlefish squid crepes with sea bass and vegetables on a spicy orange datterino cream. A delicious first course seafood dish made with a delicate filling of fish and vegetables, an elegant dish suitable for serving during important dinners. A recipe that will delight the palate of our guests.
Production time: 2 hours
Degree of difficulty (from 1 to 5): 2
Ingredients for 4 people
For the batter
100 g white flour
200 ml milk
50 ml cooking cream
1 egg
5 g of cuttlefish ink
20 ml seed oil
½ teaspoon of salt
For the filling
2 sea bass fillets cut into small pieces
½ glass of white wine
1 thinly sliced onion
1 ripe tomato cut into slices
1 carrot cut into julienne strips
1 zucchini cut into julienne strips
1 sprig of chopped parsley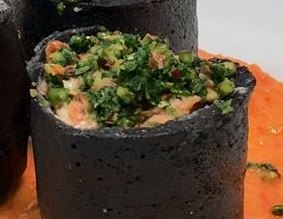 Procedure for making Crespelle with cuttlefish ink
Prepare the batter for the crepes by mixing the flour with the milk, the cream, the egg, the seed oil and the pinch of salt in a bowl.
Add the squid ink and mix well until a smooth and homogeneous batter is obtained. Cover the bowl with plastic wrap and let it rest in the refrigerator for half an hour.
Take the batter, mix it well, heat a non-stick pan with a knob of butter, pour a ladle of batter, tilt and rotate the pan to distribute all the batter over the entire surface and cook for one minute only on one side.
Continue until the batter runs out and keep warm.
Fry the onion in a pan with a little oil, add the carrot, after a couple of minutes the courgette and finally the tomato and cook over high heat for a quarter of an hour.
Turn off the heat and add chopped parsley, salt and pepper.
Put the sea bass fillets in a pan with a drizzle of oil, cook for a few minutes, deglaze with white wine and add the cooked vegetables.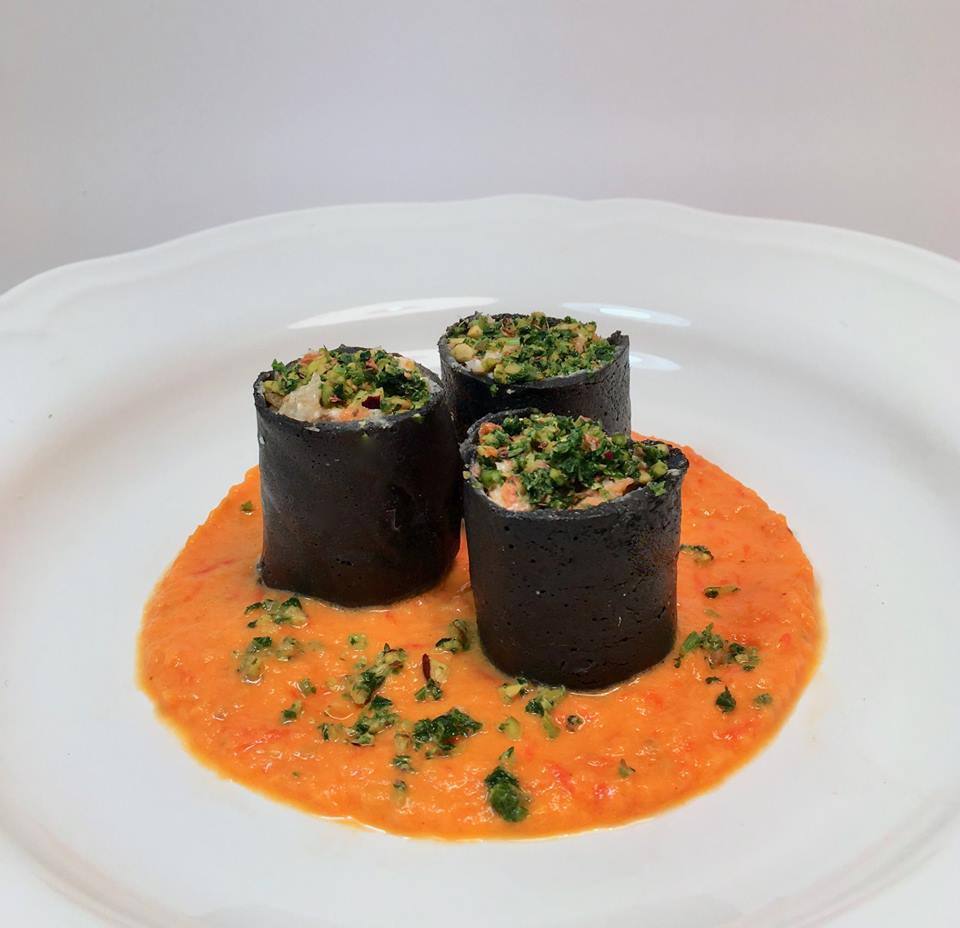 Stir to mix the ingredients well and keep warm.
Heat a little oil in a pan and when it is hot add the finely chopped shallot.
Add the chopped small tomatoes, season with salt and pepper, add the chopped pepper.
Cook for a quarter of an hour until the tomatoes have become very soft, remove the chili, blend and keep warm.
Spread a pancake on the work surface, fill it with the sea bass with vegetables, roll it well and cut it into 3 parts, making some stuffed rolls.
Serve putting a ladle of tomato sauce on the bottom of the plate, add the stuffed crepes and a little chopped parsley; a few drops of raw olive oil and serve hot.
The recipe was made by Patrizia Dragoni.
Crepes with cuttlefish ink ultima modifica: 2019-05-29T09:12:27+02:00 da
Lascia il tuo voto: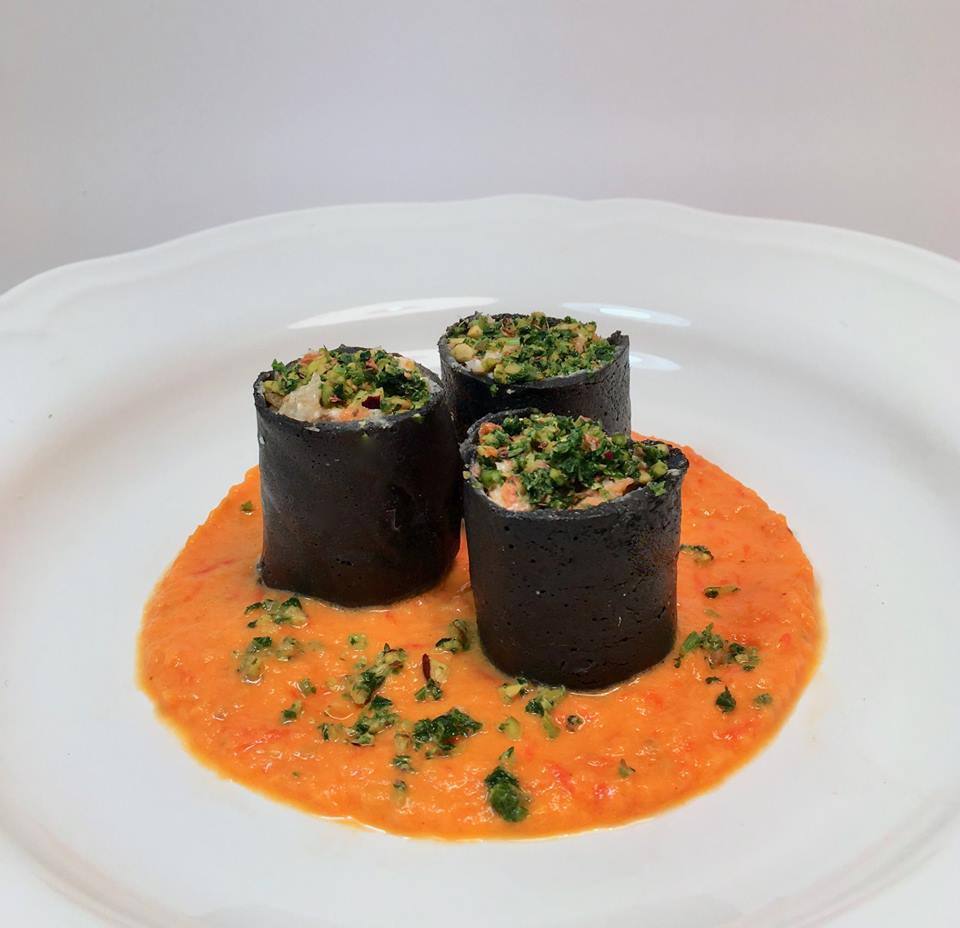 Nome Ricetta
Crespelle al nero di seppia
Nome Autore
Marco Spetti
Pubblicato il
Tempo Totale