Just to whet your appetite … me with mortadella of course!
A crunchy and light focaccia as few! Small tricks for an incredible result in a few hours. It is a Focaccia with a preference of yeast, autolysis and high hydration, even 90%, which make the focaccia "holes, holes and lots of flavor!"
Production time: 1 hour and 15 minutes + 18 hours of leavening
Degree of difficulty (from 1 to 5): 3
2 trays 58×58 cm
Ingredients
Ferment
150 g of water
200 g of flour w 380 – 400
3 g of compressed yeast (2 g if long maturation)
 
Dough
800 g of flour w 380 – 400
750 g of ice water
3 g of compressed yeast (2 g if long maturation)
30 g of olive oil
25 g of salt
Procedure to make the Focaccia Taratatitti
In a bowl mix the water with the yeast and add the flour. We will get a consistent cream. Cover with care and wait for the doubling in about 90 minutes, then double in the fridge at 4 ° C for 12 hours.
Add about 650 g of water and leave in autolysis for about 90 minutes, then proceed to the mixture.
Add the flour and crumbled yeast to the flour in autolysis by mixing with the leaf.
At the beginning the mixture will cling all to the leaf, maybe with the tarot we put it back down and continue with the dough, adding a little of the remaining ice water. Increase the speed that must be sustained.
With the mixture in part the sale is added and kneading by increasing the speed, thanks to the autolysis and the high protein value of the flour, stringing will be very simple.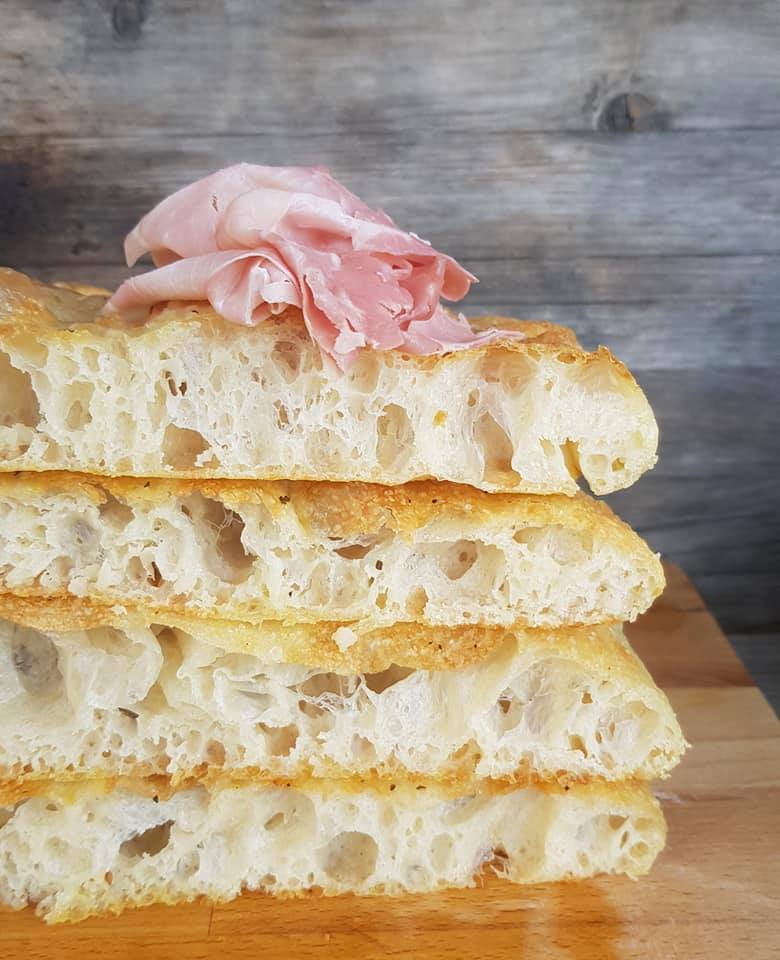 With the perfectly strung and resistant mixture, it will form the veil in pulling a flap, add the oil flush and continue for a few minutes. The whole mixture lasts 12 minutes and must be shaken to the extent that the dough incorporates a lot of air and with adequate mechanical action develops a tenacious and resistant gluten.
Lightly grease a bowl and insert the dough, round and make a round of folds in a bowl every 15 minutes three times. Seal and let rise. It is possible to proceed with an immediate leavening like I did today or a long maturation in the fridge. I haven't tried it, but I guarantee it anyway.
Let rise at 23 ° C for 5 hours, thanks to the preference the dough will have an extra boost.
Turn over the dough on a lightly greased pastry board, divide it in two and make a few folds with the "stretching & fold" method to know what I'm talking about just see some tutorials on youtube, or if you are not practical with the help of a tarot until the dough takes consistency and tenacity. Cover with a bell and let it rest for an hour.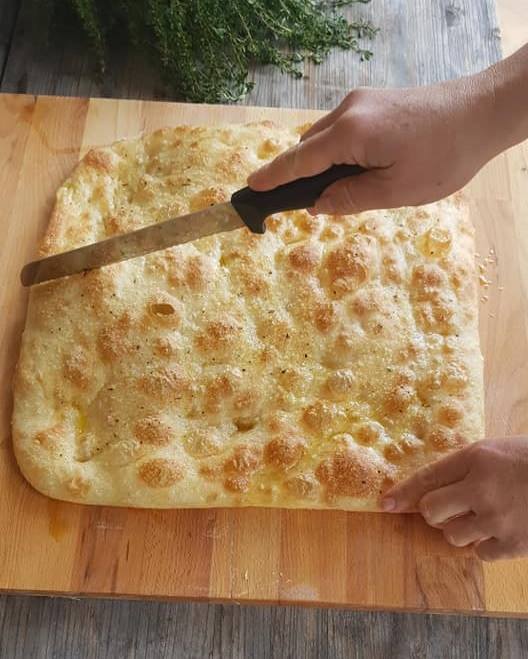 Grease the baking pans and place the dough widening slightly. The dough will be tenacious and will not give up, no problem, cover with cling film and wait about 15 minutes, spread the dough again from below with the fingertips, it still does not cover the pan, then cover again with plastic wrap and wait 15 minutes, then widen it the dough is soft and will reach the corners.
Grease the mixture with abundant oil, sprinkle some flavored salt and bake at 250 ° C ventilated. The focaccia in 15 minutes, as a chronometer, will be ready, crunchy and steaming all to you. If you have time, you can put the dough in the fridge for up to 24 hours by placing 2 g of yeast in the dough and 2 more in the dough and after the fridge proceed exactly as above.
The recipe was made by Antonella Audino.
Focaccia Taratatitti ultima modifica: 2019-03-14T00:48:11+01:00 da
Lascia il tuo voto: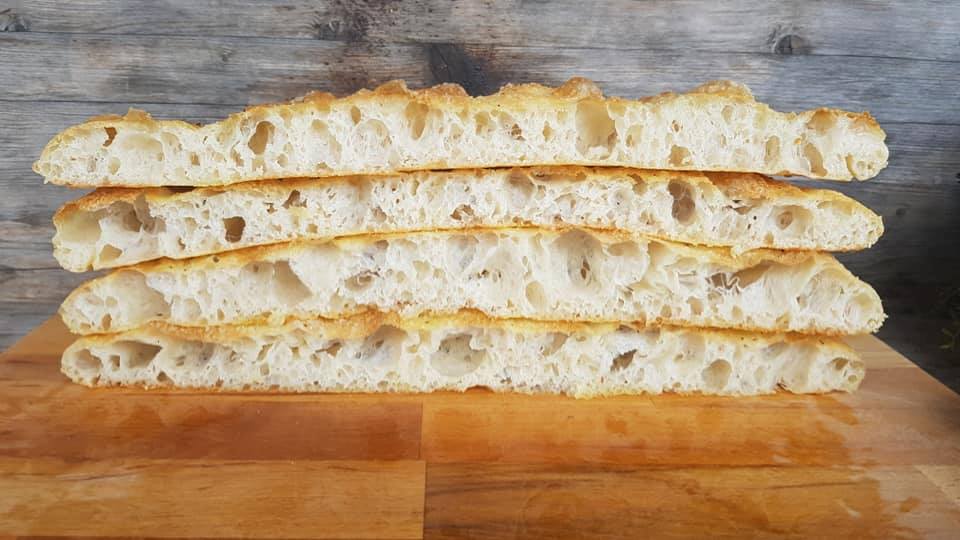 Nome Ricetta
Focaccia Taratatitti
Nome Autore
Marco Spetti
Pubblicato il
Tempo Totale