Italy celebrates a new world record. Giuseppe beloved he is officially the best pastry chef in the world. A highly coveted title the Meilleur Patissier 2021. A true unicum in this edition, not for the nationality of the winner but for his experience. It is the first time, in fact, that a restaurant pastry chef has triumphed.
The best pastry chef in the world is Italian
The French association Les Grandes Tables du Monde is the French association that has decided to award the Italian pastry chef Giuseppe Amato. He is the best in the world and is above all a pastry chef. An absolute record that has deeply moved the Sicilian talent. He immediately thanked him chef Heinz Beck, which has actually raised him professionally.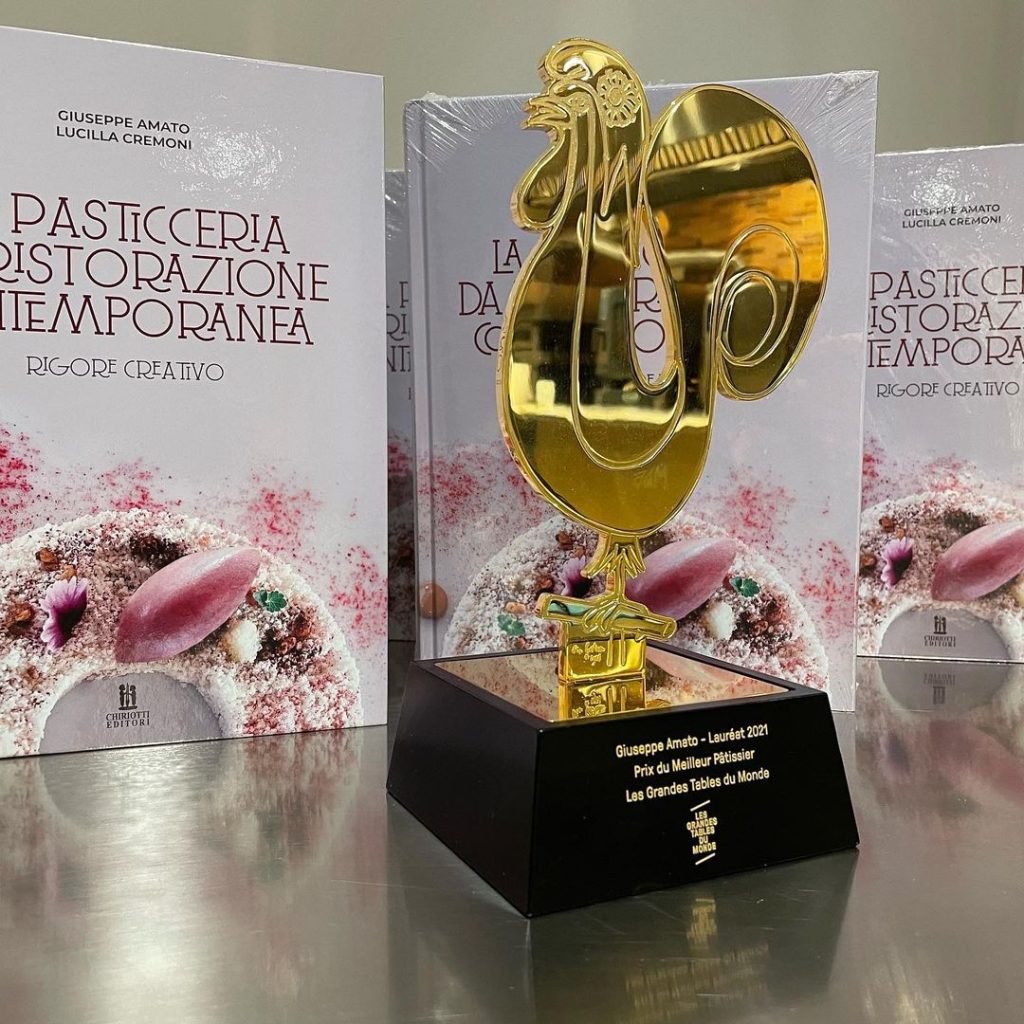 "He believed in me from the first moment and has continued to do so for the past 17 years". We could not miss, however, also thanks to the collaborators and especially to the family: "I am a father and a husband. I thank my wife and my children who support me, even though they see me little because of my work ". A historic triumph for the head pastry chef of La Pergola, at the Rome Cavalieri, A Waldorf Astoria Hotel, already elected best pastry chef of 2020 by Gamberto Rosso. Success after success for a truly exciting career.
Who is Giuseppe Amato
Giuseppe Amato is a born pastry chef, in the true sense of the word. Born in Sicilia, in the small town of Gaggi, in the province of Messina, begins to get his hands dirty as early as 9 years old. He immediately felt the push within himself towards this world. He tries his hand at a restaurant in the village and thus begins a long adventure.
He opts for the hotel school, where he hones his skills and learns the basics of the trade. Start with some internships and go looking for jobs in prestigious hotels. The meeting with Salvatore Turrisi was fortunate, before moving on to La Posta Vecchia in Palo Laziale with Michelino Gioia. He moved to London, where he works at Alain Ducasse. After 6 months he returns to La Posta Vecchia with his then girlfriend and now his wife. It is with her that he goes for the first time to an interview at La Persola, Heinz Beck's temple.
Thus began the internship that changed his life, becoming the pastry chef and sous chef of one of the best restaurateurs in Italy. It has been 17 years since then, during which time he has toured the world, showing his talent far and wide. All this led to the foundation of Pass121, an association of pastry chefs born in 2016. Also worth mentioning is the entry into AMPI, the Academy of Italian Pastry Masters in 2017. A true master.
Photo source: https://www.instagram.com/giuseppeamatopastrychef/
Meilleur Patissier 2021, the Italian Giuseppe Amato is the best pastry chef in the world last edit: 2021-11-29T14:51:19+01:00 da