Tradition combined with innovation to offer customers the delicacies of typical local cuisine, the result of important research and originality. Giulio Gigli is a XNUMX-year-old chef from an Umbrian town. He has a significant professional training behind him. In fact, for fifteen years he worked in great restaurants in Europe and overseas. Now he's back in his Umbria where he opened his first restaurant "UNE" in Capodacqua. A village of 200 inhabitants, enclosed in the mountains around Foligno, where he was born and raised. His cuisine features the forgotten products of the region and the creativity the chef has learned abroad. Here is our interview with this young Italian excellence.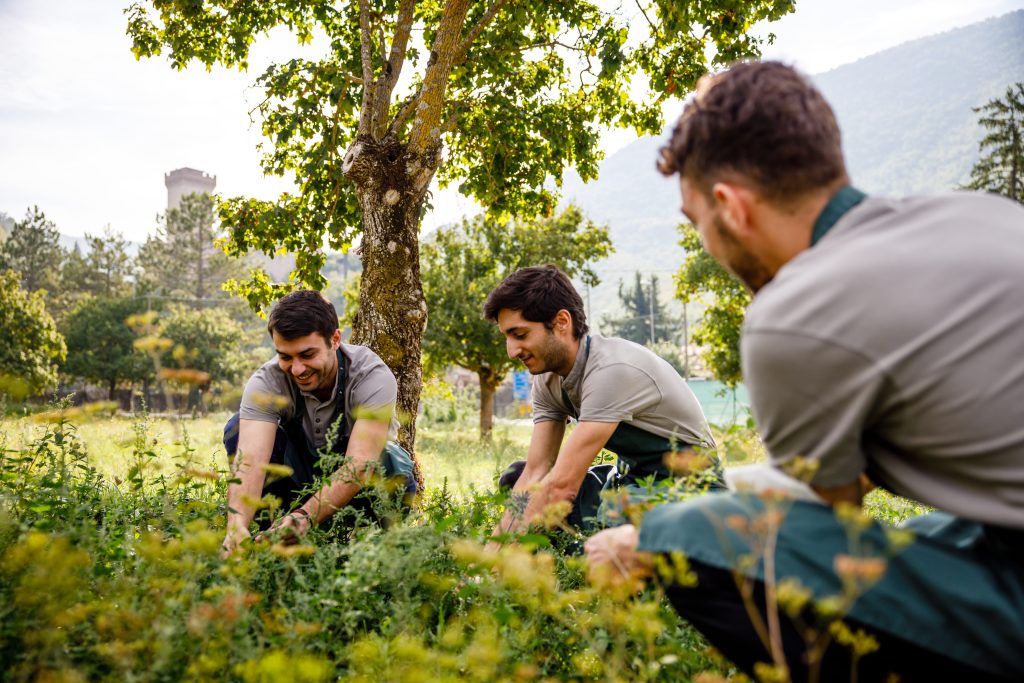 Can Giulio Gigli tell us about your training experience in the different restaurants where you worked? Which is the most significant experience? And who is your kitchen inspired by?
The experiences I have had are all significant to me. And very important. In each place I have learned something meaningful. From Anthony Genovese's Pagliaccio, to Yannick Alléno's Le Cheval Blanc and Benu's three-starred kitchen in San Francisco. And then for four years at Disfrutar in Barcelona, ​​a restaurant awarded with two Michelin stars, where I was chef de cuisine and responsible for creativity. In all these places I learned the creativity in the kitchen that helps to give meaning and originality to each dish.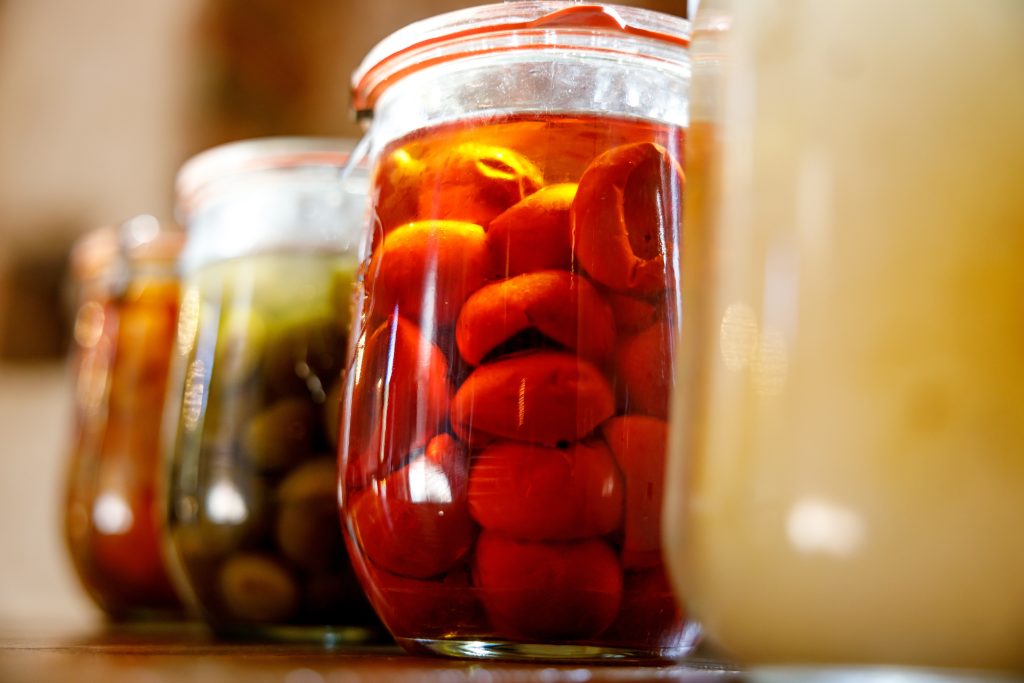 An important bet is to return to Italy and open a business in a small but resourceful country. Giulio Gigli, what prompted you to believe in this bet?
It all started before Covid. I understand that the quality of life here is better. And this was my favorite lifestyle. I then recovered this property, an ancient mill of the '400, with large spaces. We have several customer lounges. But the recovery work isn't over yet. In fact we are working on the creation of our garden, where we can grow our products.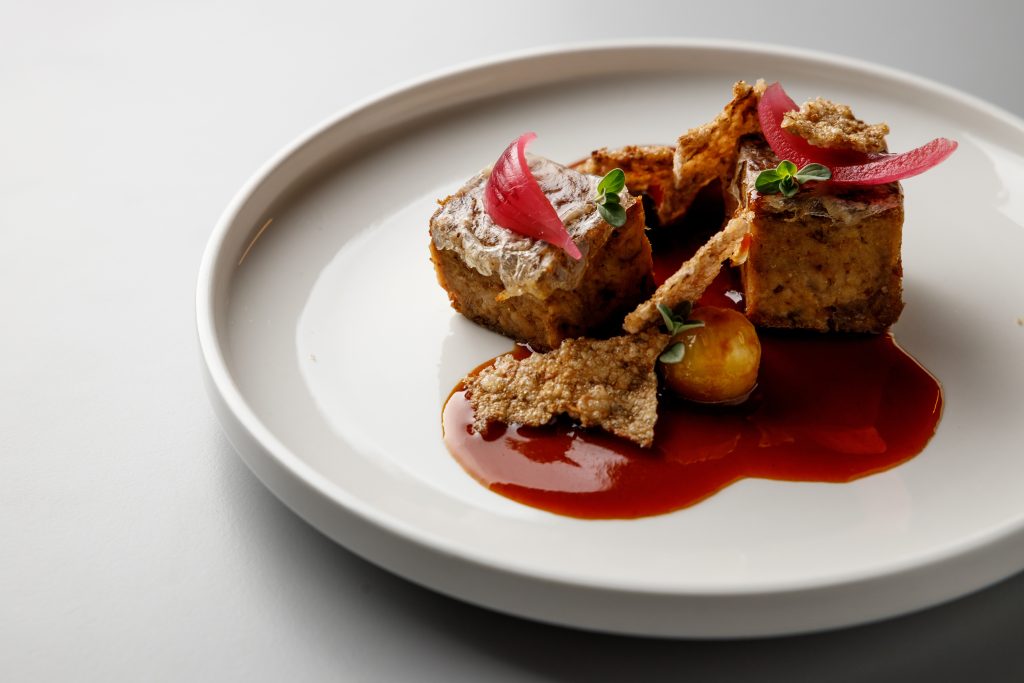 Tell us about your cuisine and dishes. What is it based on? On tradition or on modernity?
UNE is a restaurant that focuses entirely on Umbria. It respects the culture of the table by offering traditional ingredients revisited through international techniques. It is a territorial cuisine where we use products from our Umbrian territory. From roveja to aglione, from elderberry to Trasimeno bean, from black chickpeas to artisanal umbricelli. Each product is then revisited with different techniques, renewed in a modern version, the result of my experiences over the years.
How did the post Covid reopening go?
The feedback was positive. Although there is still a lot to do.
What is your favorite dish?
There are many dishes. Not just one. Like many techniques acquired, those of molecular cuisine, the spherification of pine nuts and pine. And then the pigeon enhanced through cooking in full French style. And again from San Francisco comes the idea of ​​flavoring bread using garlic flowers prepared by the local O'MÀ bakery. Still the tagliatella stuffed with summer truffle and served with an emulsion of almonds, pasta and beans, reinterpreted with umbricelli of ancient grains, Cave bean and rind foam, and the self-produced preserves used seasonally in the menu.
Yours is undoubtedly a team effort, what is it based on?
There is a great collaboration between us. My team is made up of people of different nationalities and everyone has different roles. Lately we have been dealing with the preparation of preserves, using ancient techniques as they once did.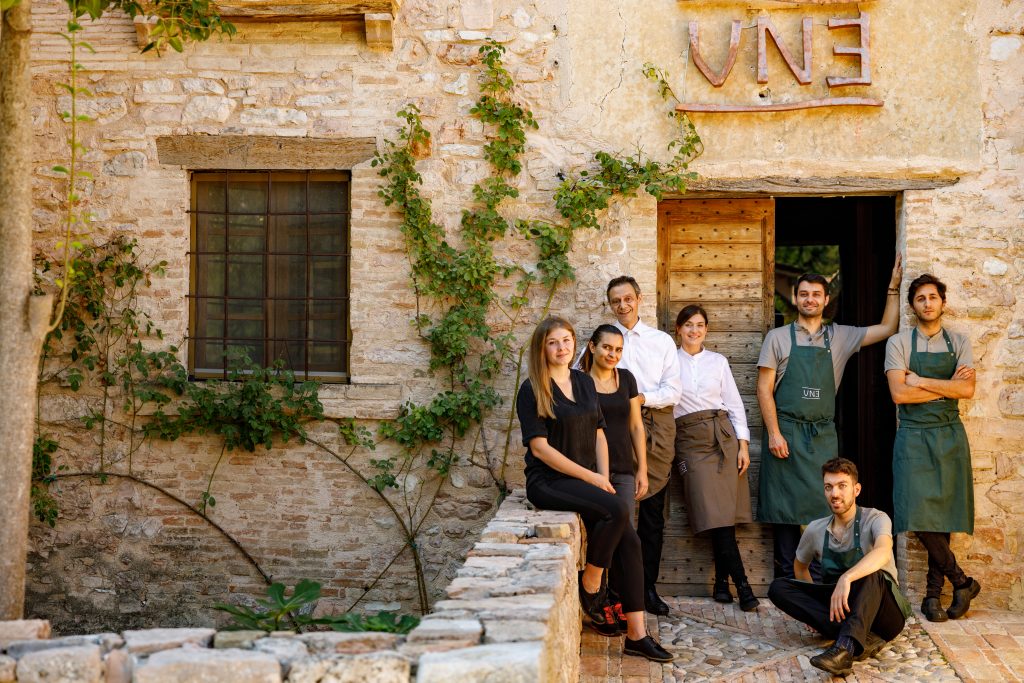 We at italiani.it tell about the excellences of our Italy and she is undoubtedly one of them. What do you feel like saying to the many young people who would like to bet but who are afraid to do so?
It is necessary to have the ability to "business", it is never easy, especially in Italy. But if everyone has something to tell, something to do and believe in, it's worth doing. It's not a walk in the park, there's a long training path behind it, but it's worth a try.
What future projects in the pipeline?
The restaurant is located inside an old oil mill which has been converted. Inside there are the millstones, and other spaces to visit. We want to offer our customers a unique experience, and soon we would like to create our own forest and farm. Thus combining quality, creative but also traditional cuisine.
The images, with credits Andrea Di Lorenzo, were provided by the press office of the UNE restaurant
Interview with Giulio Gigli, a 34-year-old chef who has returned to Italy last edit: 2021-12-05T09:00:00+01:00 da