My mother used to make Italian linguine fried nests as a dessert, kneaded eggs and flour, rolled the dough and cut it more thinly than the classic tagliatelle, a part used for the main dish, seasoned with the classic ragù… and the other fry it, then passed the nests in honey and finally decorated them with various sweets, just as it is used to do in the Bolognese area at carnival. After having fried them, I wanted to season them with the classic flavors of margherita pizza, tomato, basil and mozzarella (which in this case, I replaced with the burrata).
Production time: 1 hour
Degree of difficulty (from 1 to 5): 2
Ingredients for 4 people
320 g of pasta
Tomato sauce
1 Burrata
5/6 slices of bacon
Bechamel
Parmigiano reggiano
Fresh basil to taste
Peanut oil
salt
pepper
For pasta (with Pasta Maker)
400 g of milled semolina flour
100 g of flour
190 of liquids (water + 2 eggs)
For the béchamel sauce
½ lt of milk
50 g of flour
50 g of butter
nutmeg
salt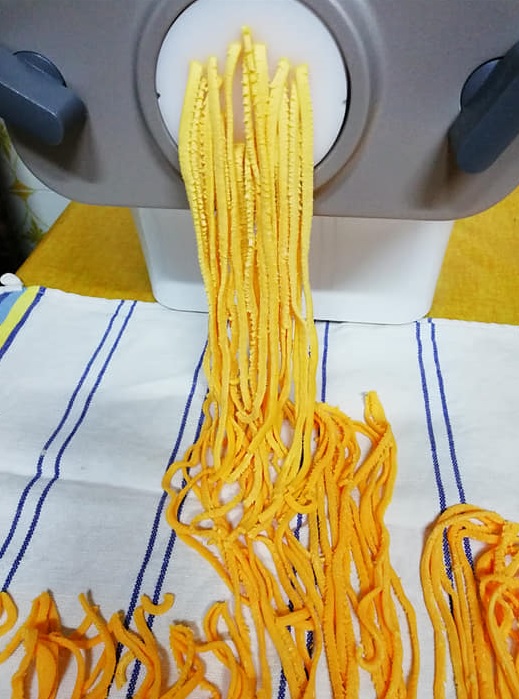 Procedure for making Italian linguine fried nests
After getting my dough with the machine, I rolled it with the help of a ladle, forming nests that I fried in peanut oil. Put on straw paper to absorb excess oil. In a small saucepan I prepared the bechamel, to which I added grated Parmesan. Meanwhile, I made the bacon crunchy by holding it in the oven for 2/3 minutes.
Everything is ready, so I served up brushing the dishes with the béchamel, I placed the nests and seasoned them with the leftover ragù (you can also season them with a quick garlic, tomato and oregano or basil sauce), a spoonful of burrata on each nest, the bacon cut into small pieces and the fresh basil.
The recipe was made by Amerigo Morgia.
Italian linguine fried nests ultima modifica: 2019-09-13T11:07:18+02:00 da
Lascia il tuo voto: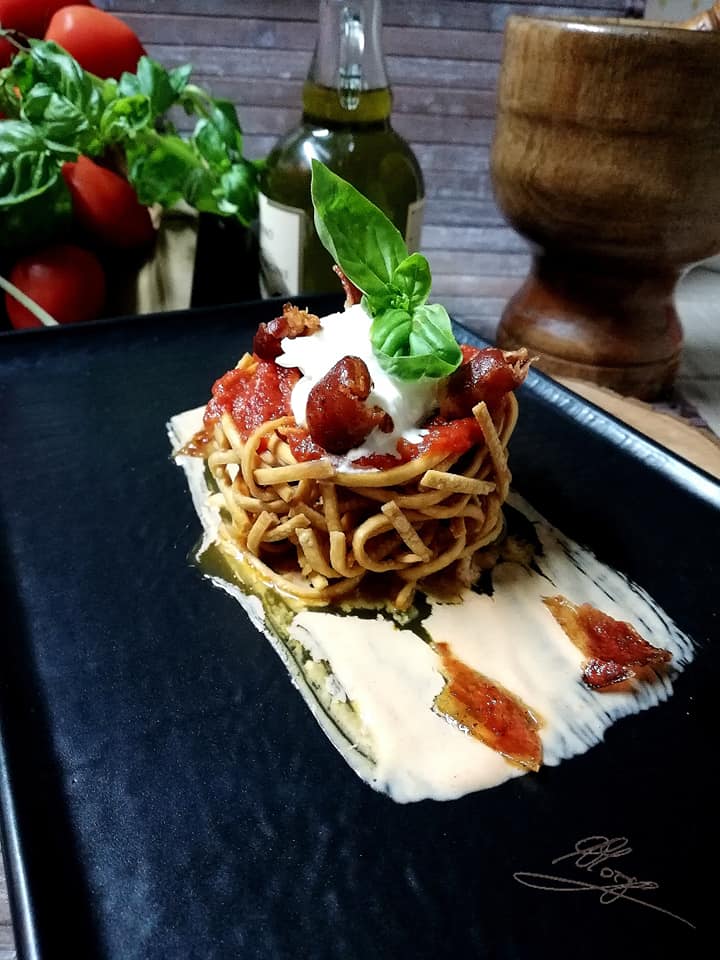 Nome Ricetta
Italian linguine fried nests
Nome Autore
Marco Spetti
Pubblicato il
Tempo Totale