Production time: 2 hours + rest
Degree of difficulty (from 1 to 5): 3
Mold 28 cm
Ingredients
350 g of flour
165 g of soft butter at room temperature
130 g of granulated sugar
1 egg
2 egg yolks
1 teaspoon of yeast
2/3 drops of orange blossom aroma
grated peel of 1 lemon
1 pinch of salt
For ricotta cream
350 g of ricotta
300 g of sugar
3 eggs
2 egg yolks
1 teaspoon orange blossom aroma
80 g of mixed candied fruit
For wheat cream
350 g of cooked wheat for pastiere
200 g of whole milk
peel of 1 orange
peel of 1 lemon
30 g of butter
Procedure for making the Neapolitan Pastiera
Prepare the pastry at least a couple of hours earlier, better the day before.
Whip the soft butter with the sugar, add the lemon peel and the aroma of orange flowers, until a creamy mixture is obtained; add the egg and then the yolks, one at a time, waiting for the first to be absorbed, before inserting the second, until a smooth cream is obtained, finally a pinch of salt.
Now add the flour previously sifted with baking powder and knead a little by hand.
Seal your pastry in a foil and leave it in the fridge.
Rest is essential, otherwise the pastry tends to crack when cooked.
Meanwhile, drain the ricotta, add it to the sugar, stir well and let it rest; the ricotta must completely absorb the sugar and the latter must melt, becoming one with the mixture.
For the cream of wheat
Place the wheat, milk, butter and all the peels of the citrus fruits in a saucepan; place over low heat and cook for about twenty minutes, stirring constantly (you will need to obtain a velvety cream).
At this point remove the citrus peel. Take 100 g of wheat cream and shake it; add the whipped cream to the previous one and let it cool completely.
Meanwhile, sieve the ricotta, with a strainer with narrow holes.
Add the eggs and egg yolks to the sieved ricotta cheese one at a time, then add the orange blossom aroma.
When the cream of wheat is perfectly cold, add it to the ricotta cream, put the candied fruit too, turn well.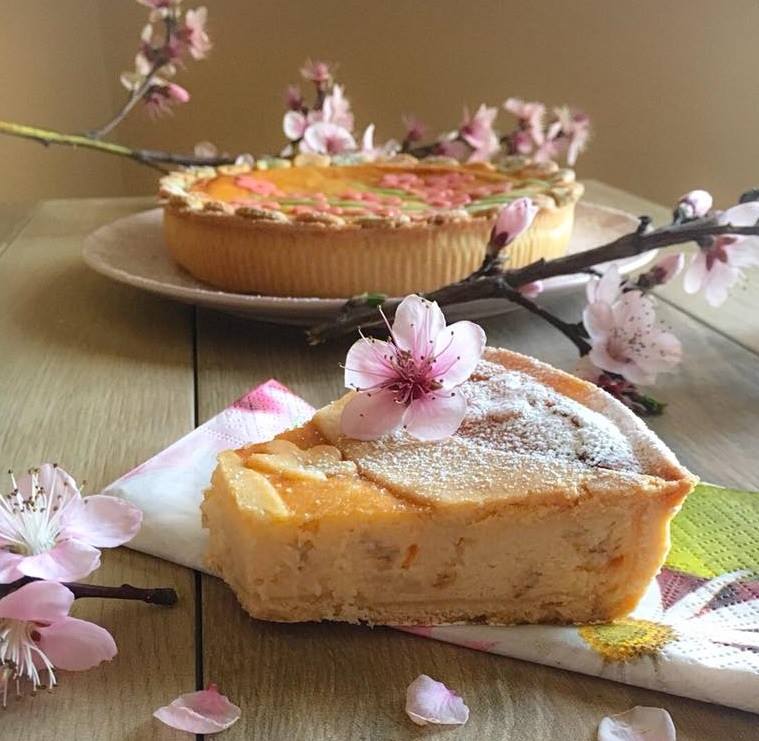 Now assemble the pastiera.
Dust your work surface well with flour and spread the pastry to a thickness of about half a centimeter; wrap the pastry on the rolling pin and place it on your pre-greased and floured meal sheet. With the help of a rolling pin, cut off the excess dough with a knife, cut the edges flush with the mold and prick the bottom with the tines of a fork.
Cut strips of 1 cm width, pour the filling into the pan, leaving 6 -7 mm of space from the edge. Lay the strips on the pastiera, crossing them.
Bake in a preheated oven, in the medium-low part, at 150 ° C for about 1 hour and 30 minutes (it must be of an amber color).
Remove from the oven and let cool in the pan.
The recipe was made by Delia Ciriello.
Neapolitan Pastiera ultima modifica: 2019-05-29T09:00:14+02:00 da
Lascia il tuo voto: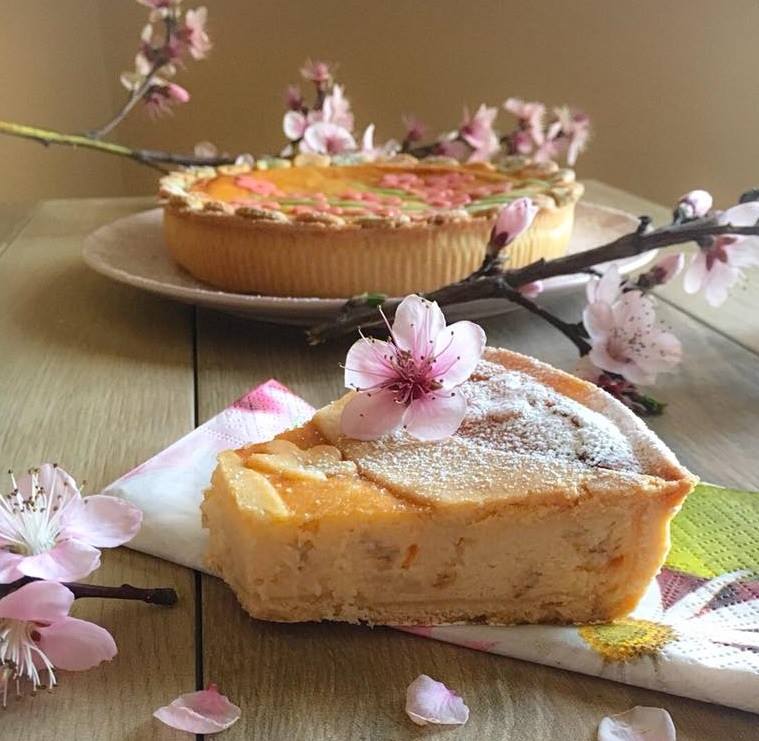 Nome Ricetta
Pastiera napoletana
Nome Autore
Marco Spetti
Pubblicato il
Tempo Totale
Voto Medio
Based on 4 Review(s)