In the Neapolitan culinary tradition, Neapolitan paccheri have very deep roots. Once it was the "pasta of the poor" because being large, only a few were enough to fill the dish. A nice curiosity concerns the origin of the name. In dialect "pacchero" means "slap" for this they are also called Schiaffoni. The encounter of paccheri with tomato, was love at first sight because the shape and the rough surface at the right point, hold the seasoning very well, guaranteeing an incomparable taste. This type of pasta is suitable for a variety of recipes, on my plate I thought of flavoring it with colored saffron and filling it with two ingredients with tasty and delicate flavors, such as shrimp and fine monkfish, all balanced by flavor intense and delicate cream of peas and yellow cherry tomatoes. A dish to prepare on special occasions … colorful and exquisite, it will leave your guests surprised and happy to taste it.
Production time: 1 hour and 15 minutes
Degree of difficulty (from 1 to 5): 3
Ingredients for 2 people

120 g of paccheri
200 g of ricotta
300 g of shrimp
4/5 prawn tails
200 g of monkfish
60 g of Parmesan cheese
6/7 yellow cherry tomatoes
70 g of peas
1 spring onion
2 cloves of garlic
½ glass of cognac
2 tufts of parsley
1 sachet of saffron
oil
salt
pepper
dill
chives
chopped pistachios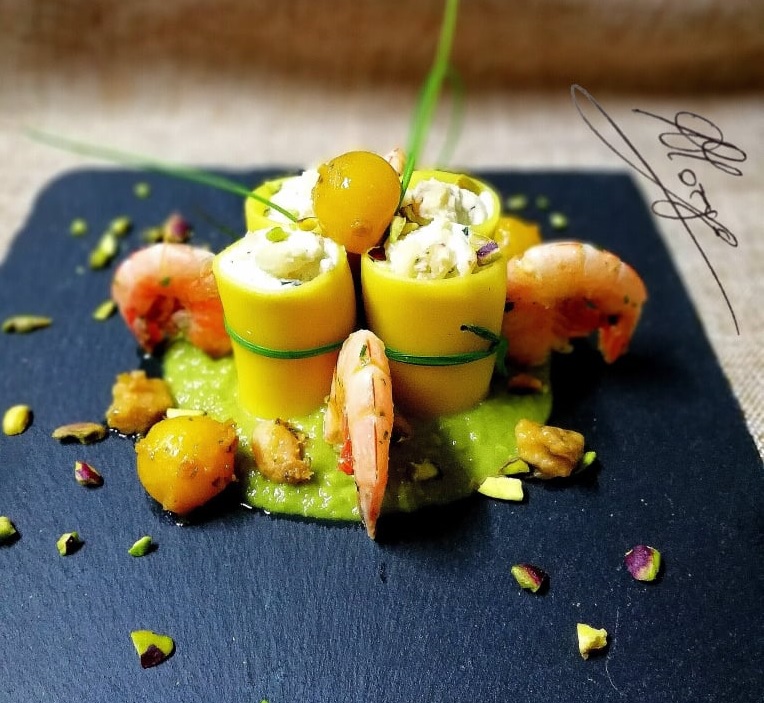 Process to make Paccheri with saffron filled with prawns
I cleaned, rinsed and chopped the prawns, leaving only those with the tail for the "mise en place" whole. I cut the monkfish into small pieces and in the meantime I boiled the water for the pasta. In a pan, with 1 clove of garlic and oil, I browned the prawns, salted, blended with cognac and after a few minutes I added the monkfish and the yellow cherry tomatoes with a sprig of parsley. Cooking takes only a few minutes.
In another pan, with oil and chopped spring onion, I cooked the peas, salted, a little parsley and added water as needed. In a bowl, in the meantime, I poured the ricotta, the prawns and the small monkfish, the Parmesan, the dill and a pinch of salt and pepper. Finally a little cooking water from the pasta to make the mixture more creamy.
Halfway through cooking the pasta I added the saffron sachet. I drained it al dente making it cool a little. With the help of a pastry bag I stuffed the paccheri and every two I tied them with a thread of chives. Then I blended the peas with a mixer, with a dash of cooking water and a pinch of Parmesan to obtain a creamy and homogeneous mixture.
I used the slate stone for this dish, placing 4 paccheri tied in pairs on the pea soup, I added the prawn tails, some yellow datterino, small pieces of monkfish and the chopped pistachios.
The recipe was made by Amerigo Morgia.
Paccheri with saffron filled with prawns ultima modifica: 2019-07-16T11:59:05+02:00 da
Lascia il tuo voto: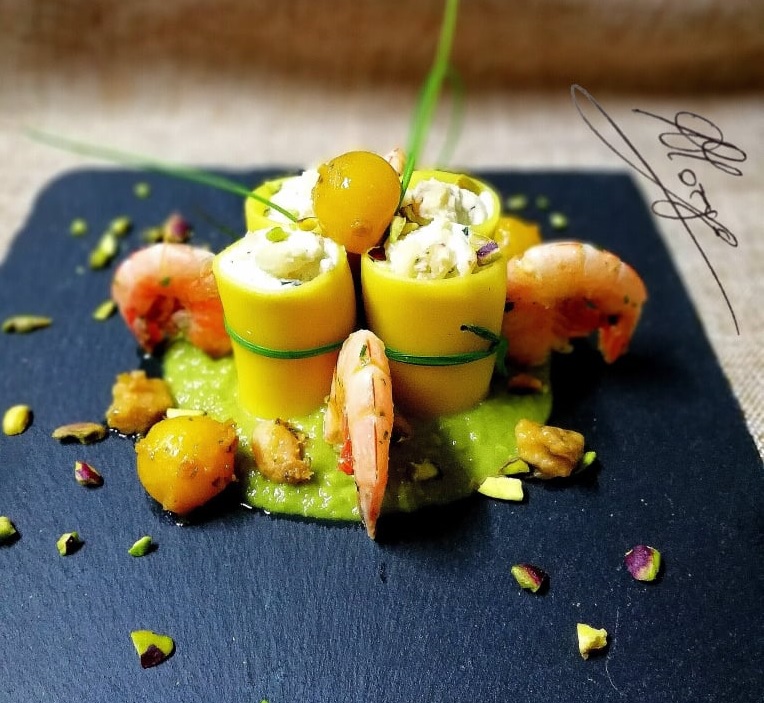 Nome Ricetta
Paccheri with saffron filled with prawns
Nome Autore
Marco Spetti
Pubblicato il
Tempo Totale