Production time: 45 minutes
Degree of difficulty (from 1 to 5): 2
Ingredients
For the rice balls, or arancini
  100 g of carnaroli rice
  300 g of asparagus
  2 fresh spring onions
  dry white wine
  about 350 ml (chicken broth and asparagus cooking water)
  ice
  1 sprig of marjoram
  1 sprig of mint
  (nutmeg)
  1 egg + 1 yolk
  rice oil
  salt and pepper
Breading the rice balls
  2 eggs
  rice flour
  almond flour
  rice oil for frying
For the mozzarella mousse
  1 mozzarella
  rice oil
  almond milk
  salt and pepper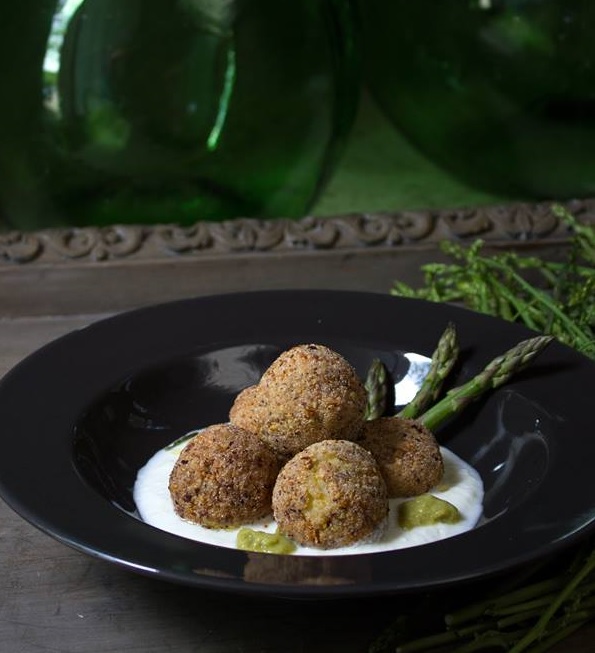 Procedure to make rice balls with asparagus and mozzarella mousse
To prepare a good, light and well-cooked fried dish it is important to have a kitchen thermometer to check the oil temperature.
Clean the asparagus by removing the hard part of the stem and dip it in boiling water for 5 minutes. Drain them keeping the cooking water aside. Cool them quickly in water and ice and separate the tips from the stems keeping aside some tips for decorating the dish.
Mix the asparagus cooking water with the chicken stock and bring to boil. Cut the asparagus tips into slices, clean the onion and cut it into cubes. Put the onion in a saucepan with a drizzle of oil, soften it over a low heat, add the rice, toast it for a couple of minutes, deglaze with the white wine and let it evaporate. Season with salt, add the asparagus, stir, cook and continue cooking, adding the boiling broth. At the end of cooking the risotto must have absorbed all the liquid. For the cooking time, follow the instructions on the packaging. Add salt and leave to cool overnight.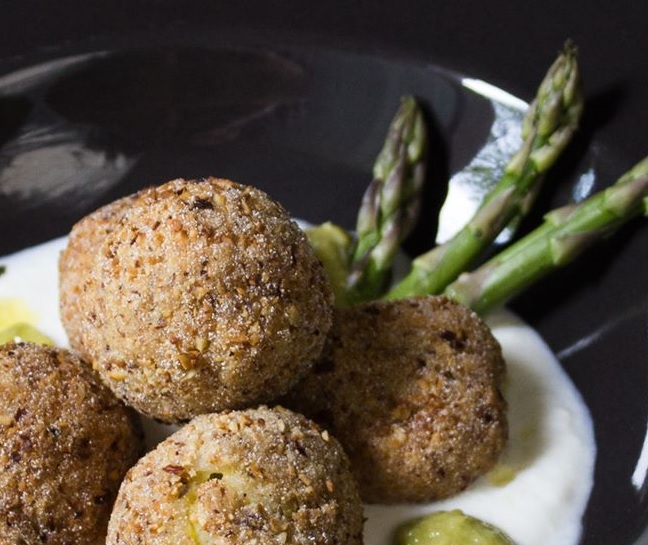 Cut the stalks of the asparagus into small pieces and stew them in a pan with a spring onion cut into slices, a drizzle of oil, salt and pepper and a few marjoram leaves. If necessary add a little cooking water of the asparagus and cook them. Blend everything with the immersion blender to obtain an asparagus cream. Keep aside. Cut the mozzarella into small pieces and place it in the bowl of the immersion blender. add a drizzle of oil, a dash of almond milk to soften and blend until you have a cream, add salt and set aside. Take up the rice, stir in the beaten egg and egg yolk, mix, season with mint, marjoram and nutmeg, then with your wet hands form lots of balls little more than a walnut. Prepare a bowl with rice flour. Separately, beat the eggs for the breading. In a bowl prepare the almond flour mixed with rice flour and a pinch of salt. Heat the oil for frying.
Pass the arancini first in the flour, then in the beaten eggs and finally in the almond flour.
When the oil has reached the temperature, fry the arancini a few at a time until they are golden brown. Drain on kitchen paper and serve with the asparagus cream, the mozzarella mousse and the asparagus tips kept aside.
The recipe was made by Anna Tondini.
.
Rice balls with asparagus and mozzarella mousse ultima modifica: 2019-09-12T17:00:59+02:00 da
Lascia il tuo voto: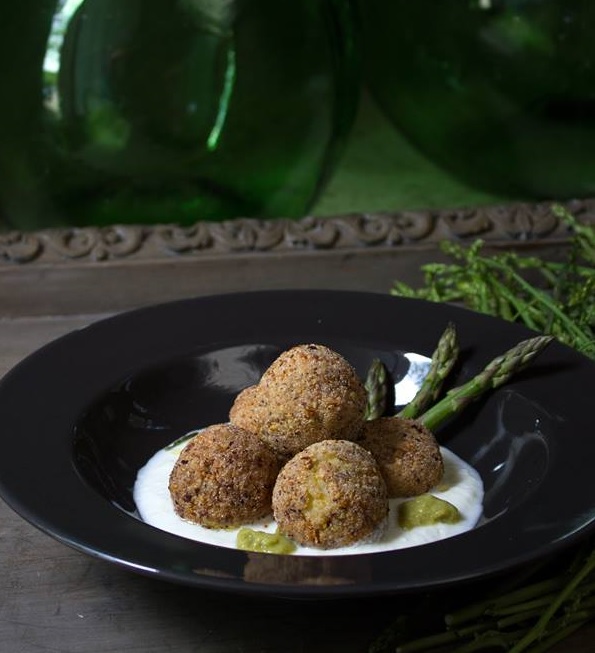 Nome Ricetta
rice balls with asparagus and mozzarella mousse
Nome Autore
Marco Spetti
Pubblicato il
Tempo Totale