Hector's story has been known for a few days. We would like to revisit this issue first of all to give news to those who had missed it, but also because his story has something important to tell us. Something that can be understood  with a cool head and enthusiasm out, when there is time to stop and think. But let's start with Ettore.
Ettore is a 61-year-old retired warehouse worker. He had worked for about thirty years in a company managed by a Sicilian. He lives in Bergamo with his family: wife, children, five grandchildren who adore him. At the end of February he got the Coronavirus after returning from a holiday in San Domingo. There he celebrated his fortieth wedding anniversary with his wife.
Il 4 marzo le condizioni di salute peggiorano. Ettore deve essere ricoverato a Seriate, nel Bergamasco, urgentemente. La mattina del 5 viene intubato. La sanità lombarda in quei giorni sta già rischiando il default. La sua gestione è in crisi. Nelle terapie intensive mancano i posti e le attrezzature necessarie per far fronte a all'epidemia che ha mandato in tilt l'intero sistema. Il personale medico dell'ospedale di Seriate sta già pensando di trasferire Ettore altrove, in un ospedale meno congestionato. Viene comunicata la disponibilità di posti letto nella terapia intensiva dell'Ospedale Civico di Palermo, in Sicilia.
On March 4th his health conditions worsened. Ettore was rushed to Seriate, nearby Bergamo, urgently. On the morning of the March 5th he is intubated. Lombard health care was already risking default in those days. Its management is in crisis. Intensive care is lacking the places and equipment needed to deal with the epidemic that knocked the entire system around. Medical staff at the Seriate hospital are already considering moving Ettore elsewhere to a less congested hospital. The Civic Hospital of Palermo, in Sicily announced The availability of beds in the ICU.
There's no time to lose. The authorization from the Councilor for Health of the Sicily Region, Ruggero Mazza, arrived and, at the dawn of March 14 Ettore is transferred urgently and in critical condition on board a military aircraft together with a 62-years-old fellow citizen. Sicily is once again in Ettore's life. Without him wanting it. And it saves his life.
A month later, Ettore woke up from that chemically-induced coma and began to breathe without a ventilator. A week later, after the first negative swab, he is transferred to the infectious diseases department. And at Easter the second swab tested negative again.
Along the difficult way, his family never stops encouraging him, despite the physical distance. Ettore has a thousand reasons not to give up: he must be godfather to his granddaughter born in October, above all. And then he has to walk his own daughter down the aisle at her wedding. His grandchildren draw and write poetry for him every day, waiting for him to wake up.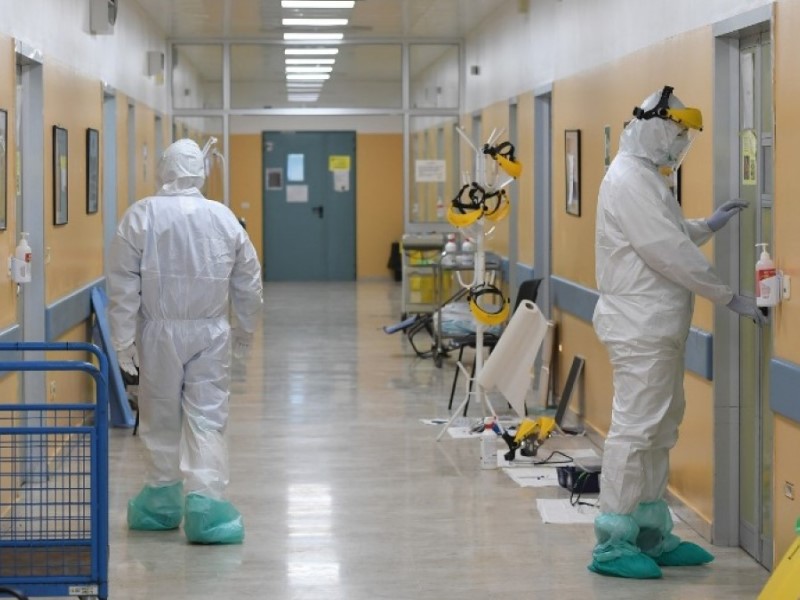 On March 30 Ettore woke up from coma and he can't believe he is in Sicily, the land that has enchanted him for thirty years with the stories told byu his owner, who emigrated to the North. In intensive care he feels the accent that reminds him of the funny one he has been hearding for many years at work. He believes it is some nurse or doctor from the South. Sicily was all around him instead. To take care of him. Literally.
Ettore is reborn. Lost in Bergamo, he found himself alive in an unexpected Palermo. An unexpected region. Above all, an unexpected health care. It is thanks to the collaboration and solidarity between north and south that he answered the prayers of his grandchildren. Thanks to the efficiency of a healthcare, in the south, that sometimes is looked with distrust. Ettore knows, and this has increased his happiness and gratitude. As soon as he returns to Bergamo, he will have Sicily tattooed, he already has the idea of drawing – he says -, with a nice shade on his ribs, which points straight towards the heart.
Perhaps, using indelible ink under the skin is exaggerated but for many of us even a simple note in pen would be useful to remember that efficiency and dedication do not always depend on latitude.
The comotose man from Bergamo is healed in Palermo: a 1000 km long good news ultima modifica: 2020-05-11T10:21:36+02:00 da