The Casa dei Vettii reopens the Sistine Chapel of Pompeii to the public, a riot of nature and culture with a kaleidoscope of colors and enchanting images. And, again, a garden crowded with statues, fountains, fragrant bushes, water games. After being closed for almost twenty years, the Casa dei Vettii, one of the best known and most celebrated jewels of Pompeii, finds its former glory. A fascinating place for its history and for the refinement of its environments, the paintings studied all over the world. The news was given by the director of the Park Gabriel Zuchtriegel with the Minister of Culture Gennaro Sangiuliano.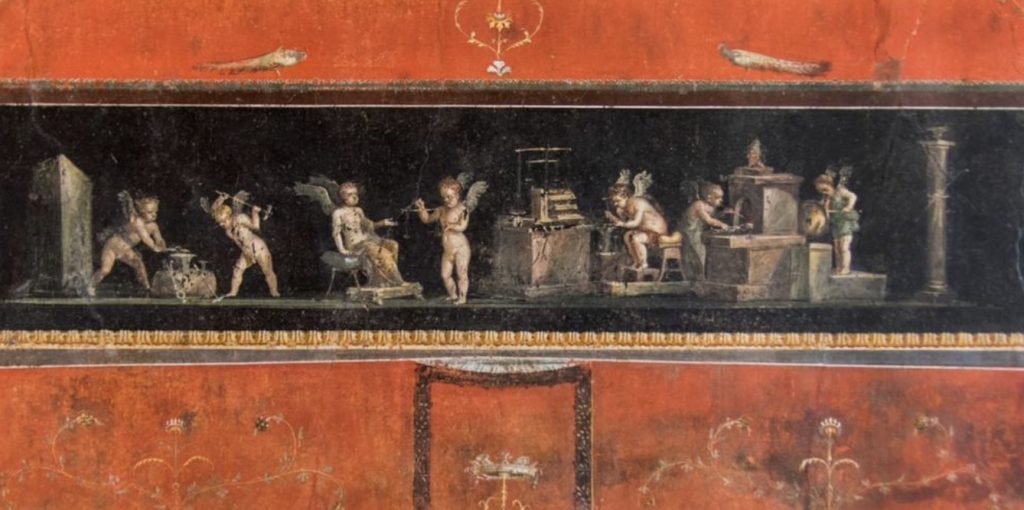 The Casa dei Vettii belonged to the brothers Aulus Vettius Restituto and Aulus Vettius Conviva, freedmen who became rich with the wine trade. Wealthy to the point of entering Pompeian society with all the honors, so much so that one of them was part of the college of the Augustali. Located in the richest part of the city right in front of another sumptuous home, that of the Golden cupids.
The House of the Vettii
Launched for the first time in 2002 and then resumed in 2016 under the direction of the then director Massimo Osanna, the construction site has involved dozens of different professionals over the years, from archaeologists and restorers to architects, from structural engineers to gardening experts. Restored and rearranged, the garden surrounded by the columns of the peristyle has also returned to shine, where the water pipes and small fountains have been restored. And where the statues have returned, albeit in copies because it was decided to protect the originals by leaving them indoors in other exhibition spaces in the park. Among these is the very special Priapus who in this garden, two thousand years ago, amazed guests with his jets of water.
The Sistine Chapel of Pompeii
The house existed from the second century. to. C and with its 1100 square meters it was equivalent to an average cut in the luxury category of the time. The Vettii they have it restored without sparing expense, resorting to the most qualified workers in the city. In all the rooms of their fabulous home, they commissioned refined paintings executed with the eclecticism and magnificence of the so-called "fourth style", fashionable precisely in the first half of the XNUMXst century. A.D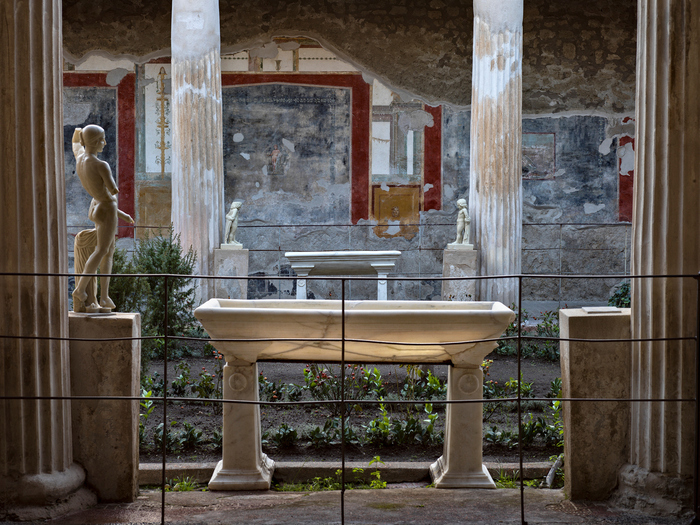 In the various rooms around the first atrium or facing the peristyle, mythological and even erotic scenes abound, accompanied by a myriad of details. Among all a sort of festoon with cupids engaged in the preparation of a banquet, which the restoration has practically brought to light, making every infinitesimal detail legible. Wherever you turn in these rooms, the glance is breathtaking, among friezes and mythological stories there are they are paintings that for the refinement and delicacy of the brushstroke, for the vivacity of the colors, appear very modern, almost as if they dated back to the end of the Eighteenth century.
(Source of texts and photos from the Ansa agency)
The Casa dei Vettii, the Sistine Chapel of Pompeii, returns to its former glory last edit: 2023-01-10T15:30:00+01:00 da