November 4, 1737. For Naples this is a date of great historical importance. In this happy day, in fact, there was an event that forever marked the history of the city: the inauguration of the San Carlo Theater, located near the famous Piazza del Plebiscito, where the church of San Francesco di Paola and the Royal Palace of Naples are located
Built half a century before the Scala and the Fenice
On the evening of the inauguration of the San Carlo Theatre in Naples, which took place on November 4, 1737, all those who had the honor of participating in it remained speechless. The date chosen was very dear to King Charles of Bourbon, ruler of Naples and Sicily from 1731 to 1739. It was, in fact, his name day. It was the sovereign to desire this great work and to realize it he called important firms such as the architect Giovanni Antonio Medrano and the builder Angelo Carasale. The work ended in about eight months of work (very few for the time) for a cost of seventy-five thousand ducats.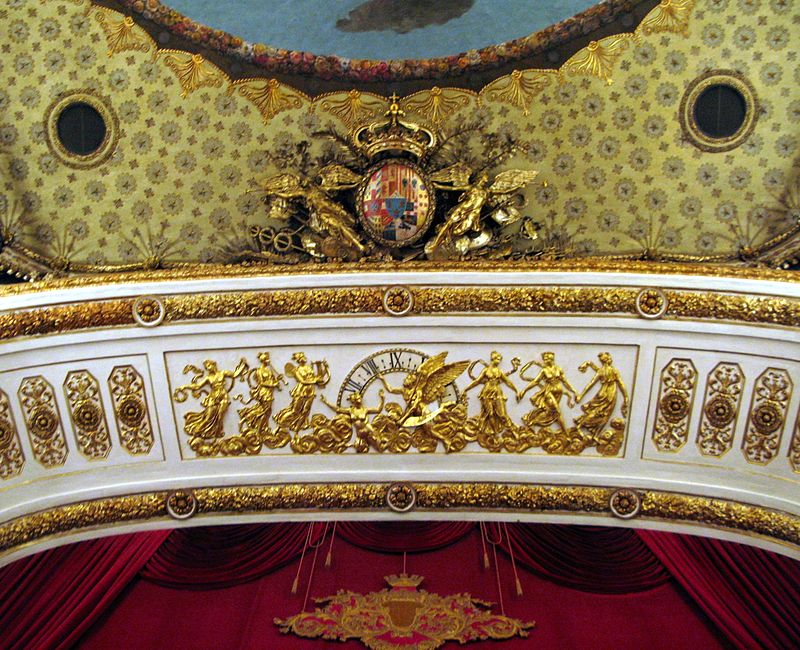 The structure of the theater is extraordinarily majestic, with a large crest of the Kingdom of the Two Sicilies overhanging the theater's scenic arch. On the day of the inauguration the dominant color was the blue, which was the official one of the Bourbon House, then replaced by the post-unitary Savoyard red. What makes this place even more unique is its historical location. The San Carlo, in fact, was born forty-one years before the Scala of Milan and fifty-one before the Fenice in Venice.
For the opening of the San Carlo Theater, the Achille in Sciro by Metastasio was chosen
But what was the work chosen for the opening of the San Carlo Theatre? On stage there was the Achille in Sciro by Metastasio, with the maestro Domenico Sarro who set it to music and conducted the orchestra. As was the custom at that time, a woman impersonated the protagonist, Vittoria Tesi, called la Moretta, accompained by Anna Peruzzi, by the Parrucchierina, first soprano woman, and the tenor Angelo Amorevoli. The evening was a resounding success, the news of which spread far beyond the borders of the kingdom, delivering to Naples the palm of capital of European music. In fact, the San Carlo Theater became the arrival point for all the most famous singers and musicians of the continent.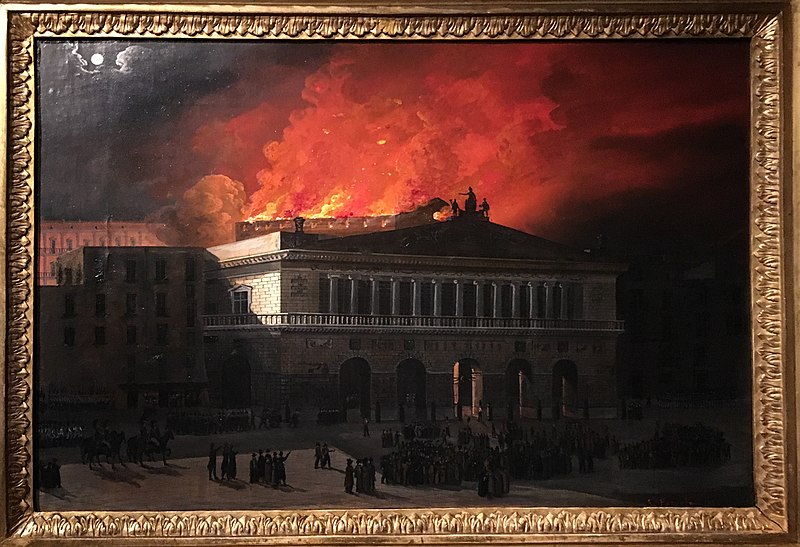 That magnificent place, unfortunately, was the victim of one of the most tragic fires in the history of Naples. In fact, on the night of February 12, 1816, little remained of the San Carlo Real Theatre. The news soon went around the world. Thus the new sovereign Ferdinando I of Bourbon, immediately gave the assigment to the Tuscan architect Antonio Niccolini to reconstruct the theater in a style as close as possible to the old building.
The new building was completed in just 300 days. And the new work benefited from a significant improvement in acoustics. The decorations were also of great value, made by important court painters like Camillo Guerra, Gennaro Maldarelli and Giuseppe Cammarano, who painted the ceiling. And so, the myth of the San Carlo Theater could come back to life and make the millions of spectators who visit it day to day dream.
Cover image:
author Viva-Verdi License CC BY-SA 3.0
The inauguration of the San Carlo Theater in Naples ultima modifica: 2019-11-05T10:19:58+01:00 da