You may be one of the three, four most famous Italians on the planet. Actually no, not famous, let's say recognizable. That if you walk in the middle of a crowd in any city in the world, a good part of that crowd is sure that it will turn its neck, its eyes, and then tell his friend: But have seen who is he?!
This happens in the world. In your city, on the other hand, the capital of your country, there is no sentient being who does not know you, indeed, who does not worship you. Setting foot outside the home means taking away every look, interrupting conversations, stopping traffic. Impossible.
The only way you could cause even more turmoil, and kidnap the gaze of that one specimen out of millions who may have forgotten who you are, the only way would be to bring your wife with you. She is very famous too – not like you, of course – and beautiful. Together you would be blinding. Unthinkable that you will be given the freedom to take just two steps. Forget it. If you are Francesco Totti and she is Ilary Blasi, a walk through Rome is science fiction.
But here's what happens. Coronavirus. The lockdown. The desert. The surreal void. The masks. In other words: science fiction, in fact.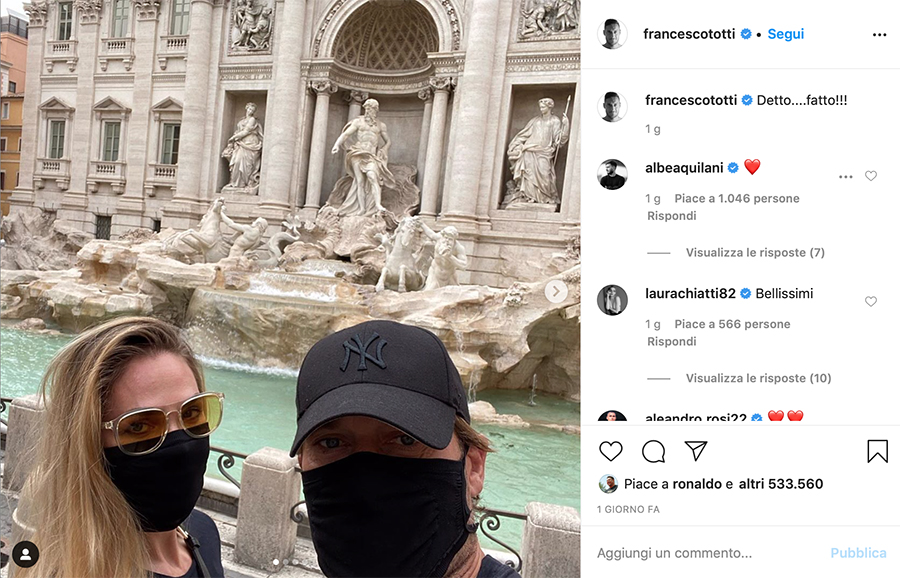 And yet, the Pupone had even announced it, to the advantage of the bunch of paparazzi ready to follow him as soon as he sneaks away from home: "When it is allowed – he said – I will take advantage of the few tourists to visit the center of Rome again".
No sooner said than done! It is the text of his Instagram post, proof of success. I told you that it makes your jaws fall. A surreal shot. Which is immediately viral.
Francesco and Ilary walk along via del Corso – via del Corso! and noone spotted them! Pure science fiction! – and then on to the Pantheon, to the Trevi Fountain. And standing there, black masks and hats, they take a selfie in front of the water, like ordinary mortals. Here is perhaps the point. Of the matter. Of the virus. The fact that it makes you unexpectedly common. It is deadly. Even if you're a god.
Totti and Ilary strolling through Rome without being spotted. Pure Italian science fiction! ultima modifica: 2020-05-29T11:46:55+02:00 da