This dish is a tribute to my sea, to the Adriatic. Sardines are blue fish, good, cheap and suitable for all blood types. Gratinated sardines are a good idea as an appetizer, as an aperitif and as street food, served in a bag. They look fantastic to me, one leads to another! Gluten free and dairy free.
Production time: 30 minutes
Degree of difficulty (from 1 to 5): 1
Ingredients for 2 people
500 g of sardines
2 slices of peas and hemp bread
1 sprig of rosemary
½ clove of garlic
grapeseed oil
integral sea salt
lemon zest
black pepper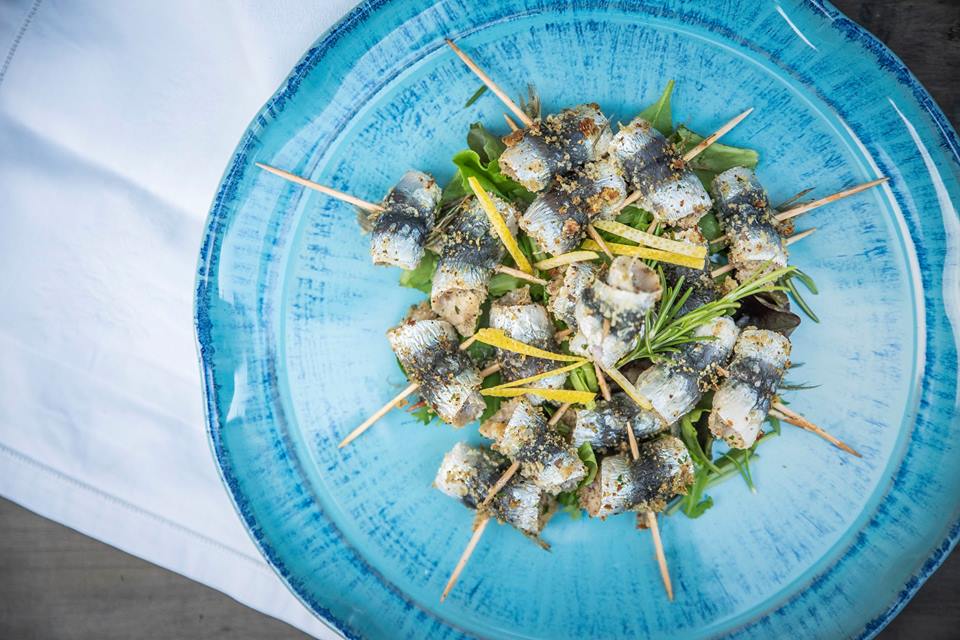 Process to make gratinated sardines with rosemary
Cover a baking pan with parchment paper and lightly oil it. Clean the sardines by removing the head and the bone, this operation is very simple: the bone comes away by itself simply by sliding with two fingers and pulling slightly to open them in half. Or buy the ones already cleaned if you prefere. Rinse the sardines and put them to drain. Toast the bread and blend it with garlic and some rosemary needles. Salt and add a grated lemon zest. Spread the mixture into a shallow dish and pass the sardines on it, pressing to bread.
Roll them up and stop them with a toothpick. Arrange them on the baking sheet, season with a little oil and a pinch of salt, a few needles of rosemary and bake at 200 ° C for 15 minutes checking the cooking, they must become golden without drying.
Serve immediately with lemon slices and freshly ground black pepper.The recipe was made by Anna Tondini.
Gratinated sardines with rosemary ultima modifica: 2019-09-16T18:32:27+02:00 da
Lascia il tuo voto:
Nome Ricetta
Gratinated sardines with rosemary
Nome Autore
Marco Spetti
Pubblicato il
Tempo Totale