Daniela Roma is a world-renowned pianist. Daughter of a Calabrian father, a native of Castroregio, a village of Arbëreshë origin in the Upper Ionian coast of Cosenza, and of a Neapolitan mother, she lives in Rhode Island (USA). She has performed in solo and chamber music concerts in prestigious theaters in Italy and the world (Salzburg, Rotterdam, Pesaro, Lucca, Cosenza, Rome, Naples, Brussels, United States of America). Together with the Neapolitan flutist Ivan Nardelli, in 2010, he played, in a world premiere, "Echi d'Oriente", by the Albanian composer Lodi Luka.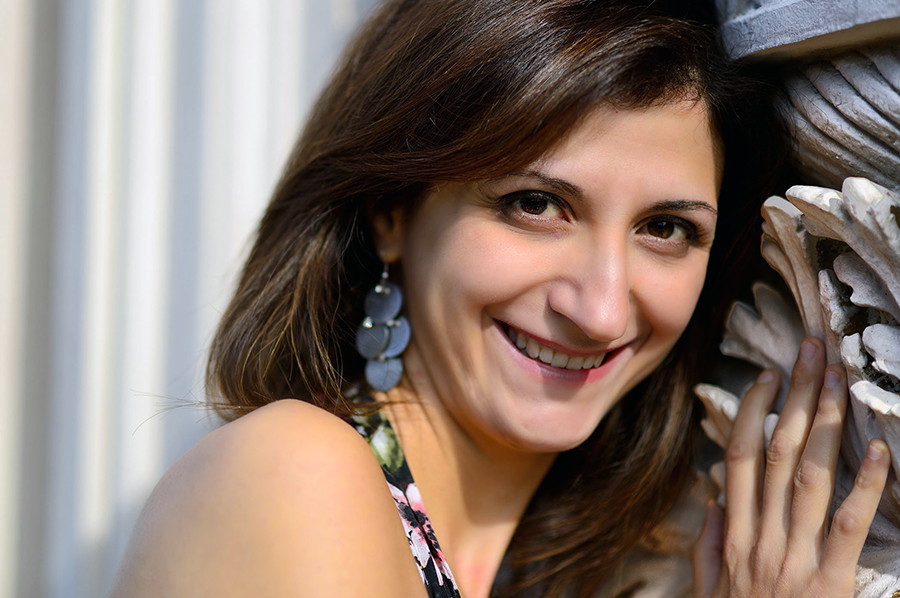 Daniela Roma, her artistic formation
After graduating with honors in piano, at the "F. Torrefranca "of Vibo Valentia, Daniela Roma followed specialization courses with Aquiles Delle Vigne at the Internationale Sommerakademie Universitat Mozarteum in Salzburg (Austria). He holds a master's degree in piano from the Hogeschool voor Muziek, University of Vocational Education in Rotterdam (the Netherlands) and has followed specialization lessons with teachers of the caliber of Daniel Rivera, Gabriel Kwok and Choon-Mo Kang. She graduated in Dams (Department of Arts, Music and Entertainment), with honors, from the University of Calabria, with a thesis on "The Synesthesia in Aleksandr Scriabin and Vasily Kandinsky". He has several CDs to his credit. The last one, with the Quintet for piano and strings, was recorded with the Modus String Quartet. Daniela Roma is the artistic director of the "Alfonso Rendano" cultural association, in Carolei (Cosenza).
Daniela Roma and the project realized with six Italian pianists in the world
For several years, Daniela Roma has carried out an intense concert activity in Italy and abroad, with performances on the Calabrian composer Alfonso Rendano. In the quarantine period just ended, Daniela organized a beautiful project: "A journey … through the notes of Alfonso Rendano". It involved six other Italian pianists around the world: Roberto Galletto (Fano), Paola Del Negro (Bloomington), Costantino Catena (Sicignano degli Alburni), Maria Perrotta (Paris), Giuseppe Maiorca (Rende) and Francesca Durante (Fano). Each of them, in their own home, has performed some pieces by the well-known Calabrian composer, "with the hope – as the pianist herself says – to give a little light-heartedness through music."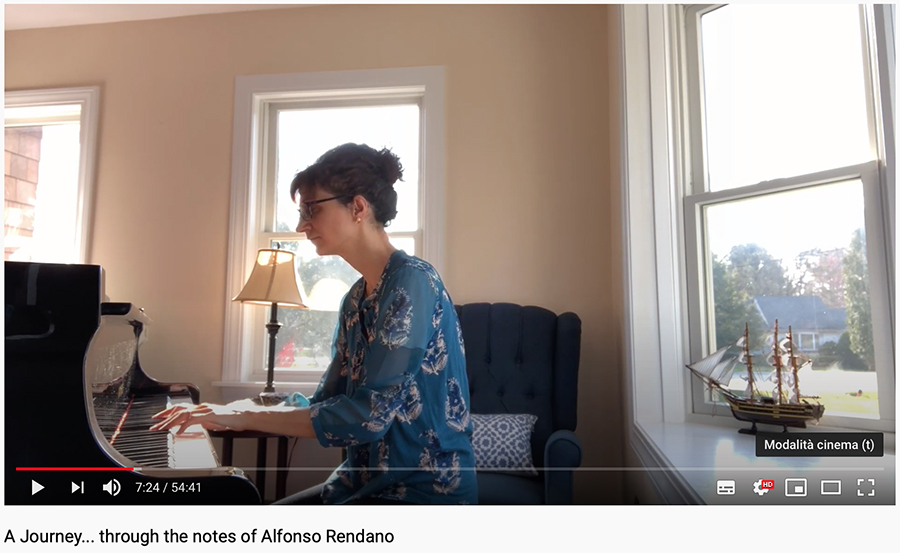 Daniela Roma and the virtual journey on the notes of the Calabrian composer
"In the sad moment that the world is living – explains Daniela – not being able to travel in real life, she thought of doing it through music". It is a virtual journey on the notes of Alfonso Rendano to whom she is very close and whose music has been divulging for years through her concerts and her recordings. The project was carried out in collaboration with the Attilio and Elena Giuliani Foundation and the "Consentia Itinera" Museum, which are located in the prestigious Villa Alfonso Rendano of Cosenza. The video, published as part of the Museum Week (11-18 May 2020), is visible on the website: www.villarendano.it. Of this and more, the pianist tells us, in the interview that follows.
Daniela, who or what led you to live in the United States of America?
"I have always traveled a lot, thanks to music, and, among the many nations visited, in the end it was Love that decided where I would stop to live. I am learning about the United States and I am happy to find myself in a reality where meritocracy reigns. Like all people born under the sign of sagittarius, I love art and I love to travel. I am lucky because my job manages to combine both passions».
For years, Alfonso Rendano's music has been spreading throughout the world thanks to you. What did your art convey to you?
«For nineteen years now, his music has been featured in my concert programs. Rendano is immediately appreciated and loved when listening to his compositions, absolutely not easy to perform. His music is never banal and obvious: it is descriptive and intimate music at the same time, which requires constant sound research. Despite numerous successes, this composer has always kept his calabresity, his attachment to his homeland alive. It is also evident from some titles of his compositions such as: "Arietta alla calabrese", "Chant du paysan", "Il montanaro calabro", "Tarantella", just to list a few. I believe that this love for the homeland is common to us. It is wonderful to be citizens of the world, but one must never forget one's roots. It is important to always carry them with you».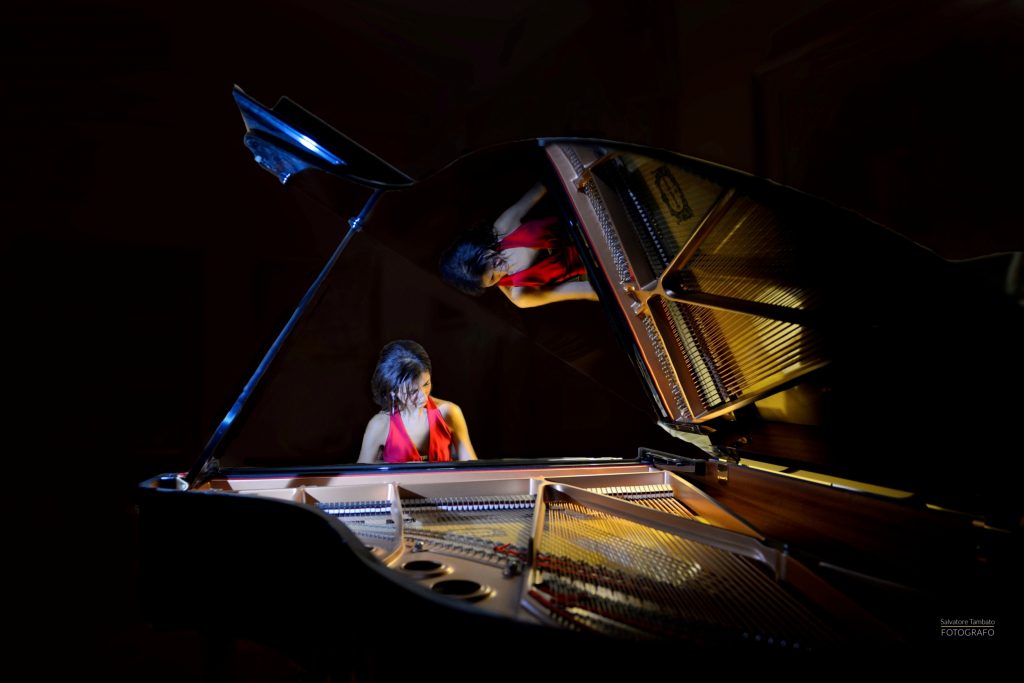 What is the message of the video?
«Despite the difficulties faced by this sad period, music not only does not stop, but it also eliminates all distances! The idea was born by playing. Like every day, I sat on the piano and thought I was very lucky to have music in my life. I said to myself: okay, I can't travel in real life at the moment, but thanks to music, in reality, every day I move through different stories and eras. Why not pay homage to a composer to whom I am particularly attached, with a nice virtual journey through his music?».
Music, therefore, as a trait d'union between people who are physically distant only. On you, however, what power does she have?
«Music accompanies all my days. It is a necessity for me, it is part of my being and I could never think of a life without the piano: it is a wealth and a certainty. Being the mother of a child of almost 4 years, I must admit that it is not easy to carve out time to study but, fortunately, I have a wonderful husband who helps me a lot. Music requires in-depth study and continuous research».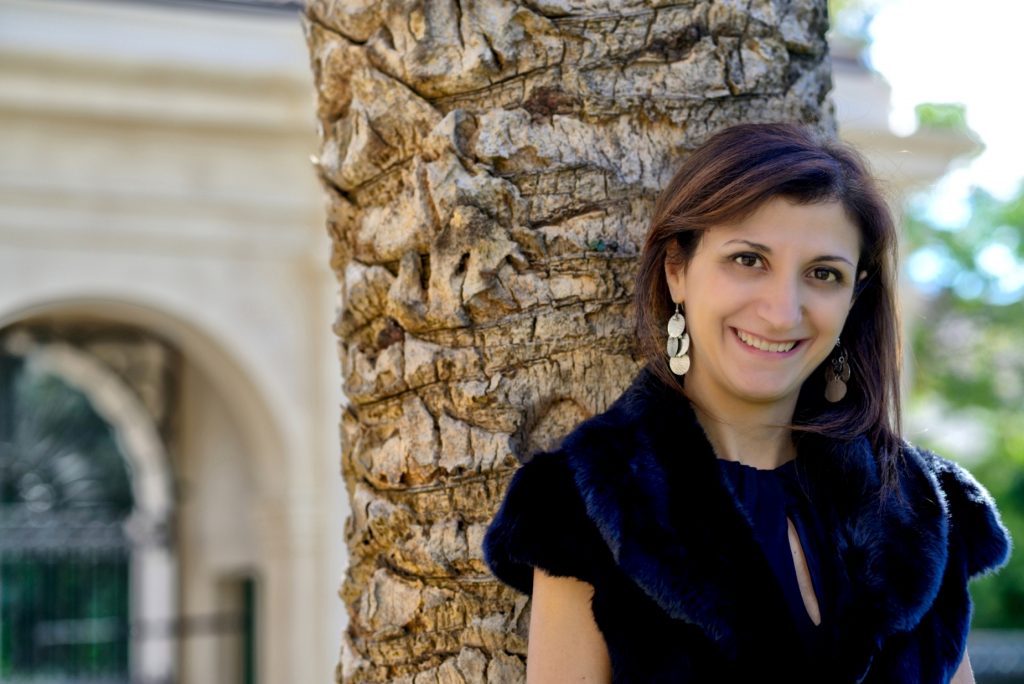 How was your love for the piano born?
«Above all I have to thank my father who sent me the love of art in general. As for the piano, when I was 4 years old, my dad, who was a professor of Archeology at the University of Calabria, often took me to his department, where there was an upright piano. I started to strum and forced everyone to listen to me. So my parents took me to take piano lessons and I never stopped».
How does it feel to perform in the most famous theaters in the world?
«It's wonderful. Music is sharing and it is a great privilege to be the means, the filter through which the great masterpieces of piano literature arrive, to those who listen to us, also loaded with what are my emotions».
Do you ever think of Calabria and a possible return?
«Calabria, and in particular Cosenza, are always in my heart. I come back to find my family every year, and it's great to see friends and all the places that have accompanied my growth. For now I am not thinking of a possible return, maybe in the future, who knows».
What is the sweetest memory of your childhood in Calabria?
«Certainly that of the splendid moments spent with the grandparents and with the rest of the family in Castroregio, a village 800 meters above the sea, from which you can admire a breathtaking view».
Images from Daniela Roma Official Page
Daniela, Rhode Island pianist who brings Calabria in her heart and in the world ultima modifica: 2020-06-04T11:22:00+02:00 da