Elisabetta Bagli is an appreciated author of short stories, fairy tales and poems. The verses, in particular, occupy a prominent place in her life, always oriented towards culture, introspection, in search of the "nuances" that only poetry is able to grasp. Passionate about literature, Elizabetta is a true "bookworm", as she likes to define herself. She was only 13 when she started reading Tolstoy and Proust. Famous worldwide for her rhymes, many of which have been translated into twelve languages, she has successfully participated in international literary competitions, obtaining important awards. Among all, the prestigious "Creativity Prize" at the "Naji Naanam 2020 Literary Prize" in Lebanon, which saw the participation of over 3,000 competitors.
Elisabetta Bagli: failed accountant, established poet
Elisabetta was born in Rome 50 years ago. She lives in Madrid, where she moved in 2002 to follow her husband Fernando Val Garijo, professor of public international law at UNED (Universidad nacional de educación a distancia). They have two children: Francesca Romana, 16, and Stefano, 14, who attend Italian school in Madrid. Daughter of an accountant, she graduated in Economics and business at La Sapienza University and began working with her father and brother in the family studio. But that is not her true calling. In Rome she met Fernando, who chose Italy to perfect his studies. They fall in love and get married. She, who has always dreamed of going abroad, moves with her husband to Madrid. In the Spanish capital, she plans her new life. She is a translator (she speaks four languages), gives free rein to her innate passion for writing, becomes an organizer of literary events.

The publications
In 2011 she published, in Spanish, her first book of poems, "Voce" ("Voz"), which in the 2015 edition was also edited in Italian. Three other poetic collections follow: "Dietro lo sguardo", in 2013; "Dietro lo sguardo", in 2017; "Dal Mediterraneo", in 2019. This latest work, created together with the Greek poet Sofia Skleida, is included in the books of the year 2019, at the tenth world literary competition held in Cyprus. Also of 2019 is the collection of short stories "Riflessi nello specchio". Elisabetta is also the author of the fairy tale "Mina, la fatina del lago di cristallo", 2013.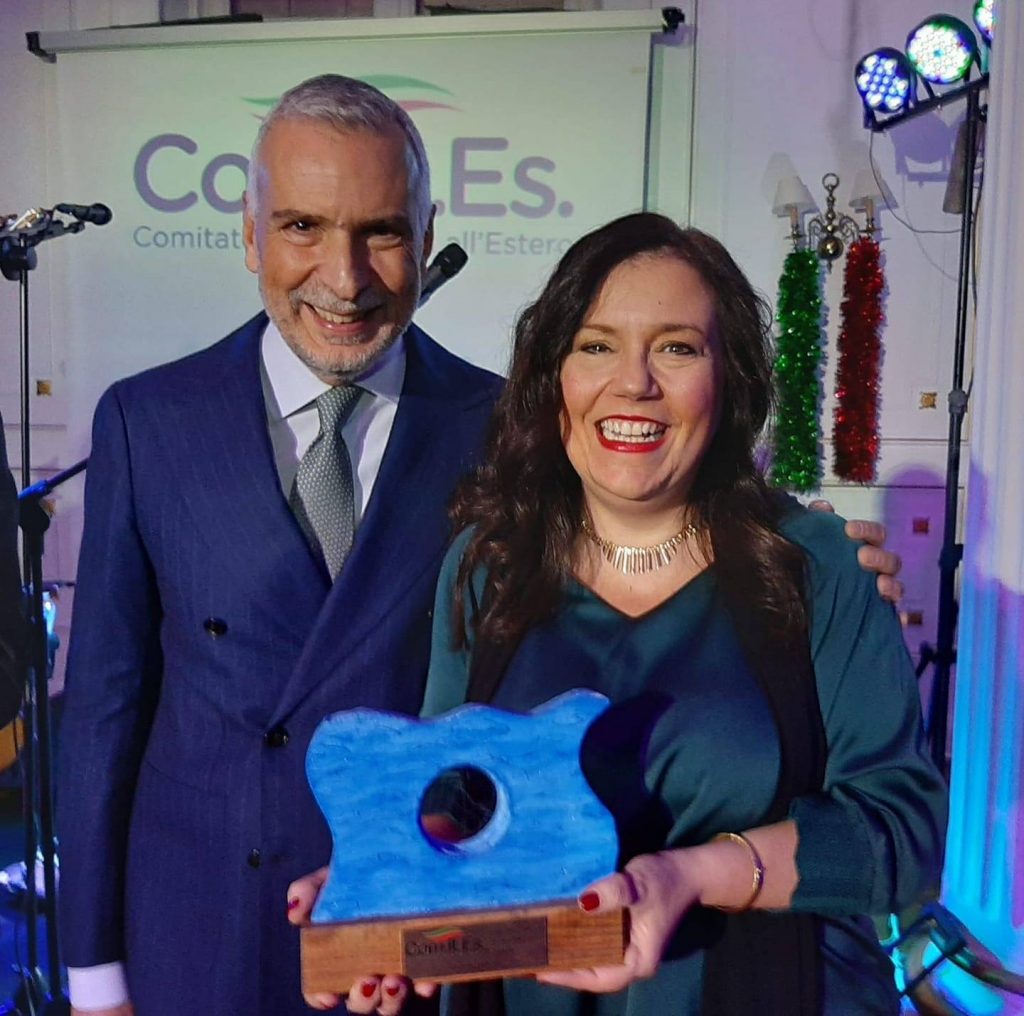 With Aim she is a proponent of Italian culture in the world
Elisabetta is the secretary of the AIM for Spain (Association for Italy in the world), which has the aim of spreading Italian culture. For her associational commitment, in 2019, she received the "Italian Culture Award". It was handed over to her by the former Italian ambassador to Spain, Stefano Sannino. To these activities, Elisabetta also combines her passion for communication. In fact, she collaborates with various newspapers and, recently, with the Italian radio ICN of New York, intervening every Monday afternoon in the "Ciao Tony" program, conducted by Anthony Pasquale. Jury member in numerous cultural competitions, on 21 December 2019 she participates in Italy in the international literary prize "From the Tyrrhenian to the Ionian sea", which is set in the wonderful city of Matera. In this interview, Elisabetta talks about herself, and does it with her heart.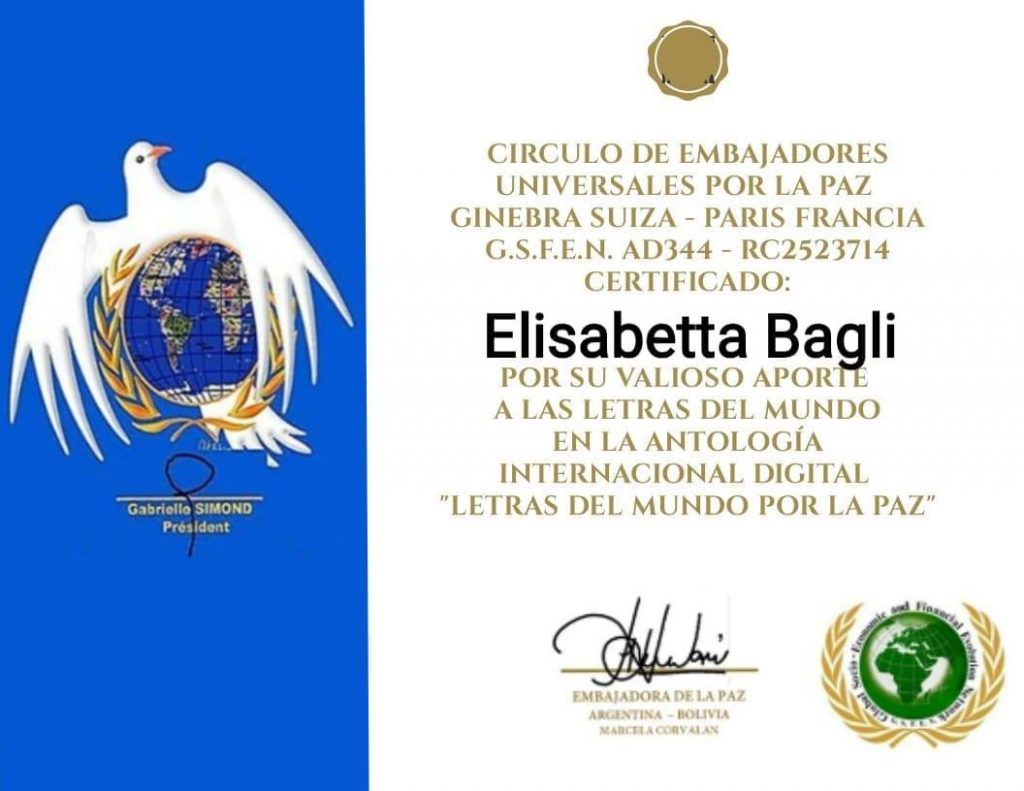 Elisabetta, where did your passion for writing come from?
«Actually, I've always been writing, but I didn't know that what I wrote could be of interest to others. Writing, as well as reading, are innate activities in my way of being. I just had to realize that what I wrote could be read. One day, a friend of mine who knew me well and, above all knew my writing, advised me to launch myself into this world. Thus was born my first collection, "Voce", and now, after a long time, I am still here».
Who are your favorite authors?
«Emily Dickinson and Elizabeth Barrett Browning, two truly extraordinary poetesses. Reading their poems gave me the opportunity to explore other worlds and other eras. I also really like Borges, Salinas and Alberti, incredible poets, each with their own passions, illusions and visions of life. The writers I love most are Pirandello and Oscar Wilde, for their way of representing reality through the masks that the human being is inclined to wear to solve and live life. With all these authors, and with many others, I learned to read myself inside and we all know that introspection is fundamental for writing, especially poetry».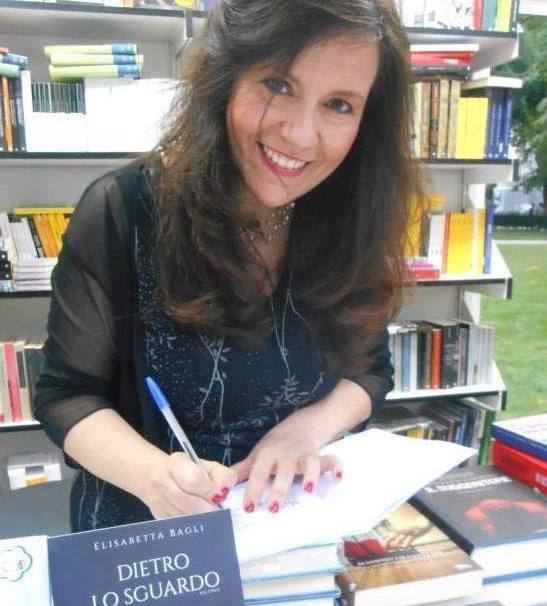 How do you define poetry?
«It is difficult to give a single definition of poetry. Poetry is a word, verse, it is often silent, but above all, this intimate and powerful voice with which you sing to life, to its colors to listen to the sound of the soul, to travel between emotions, among your own ghosts; it is that voice that frees fears, smiles, love, beauty and human hope. All this and much more is poetry: we are poetry in every breath».
Of the many verses you wrote, which one do you feel most yours?
«I am tied to many verses and to many of my poems. But one of my most representative verses is: "Non scrivere più è morire dentro / e tu non puoi" ("Scrivere", da "Voce") – "Do not write anymore is to die inside / and you can't" ("Write", from "Voice"). A writer cannot fail to write, because writing is life! I'm a pretty positive person and happy with what I have, but if I don't write a few lines a day, even just for me, I don't feel fulfilled».
How is your "world"?
«It is not a different world from what many people experience, in the sense that I live my day as it presents itself, with work and family commitments, I see friends, I walk in the park, I go to the museum. Writing is within me and everything arises from the observation of my surroundings and from what my soul feels as I observe. My verses are born everywhere, on the bus, while I go shopping, while I'm walking, while I'm cooking. I always have a piece of paper and a pen with me so as not to escape inspiration. Sometimes, I have to review that inspiration, other times it remains exactly as it was written in the first draft. The writer's world is not a particular one, it is only a matter of attitude with which the world is filtered through one's own personal feeling».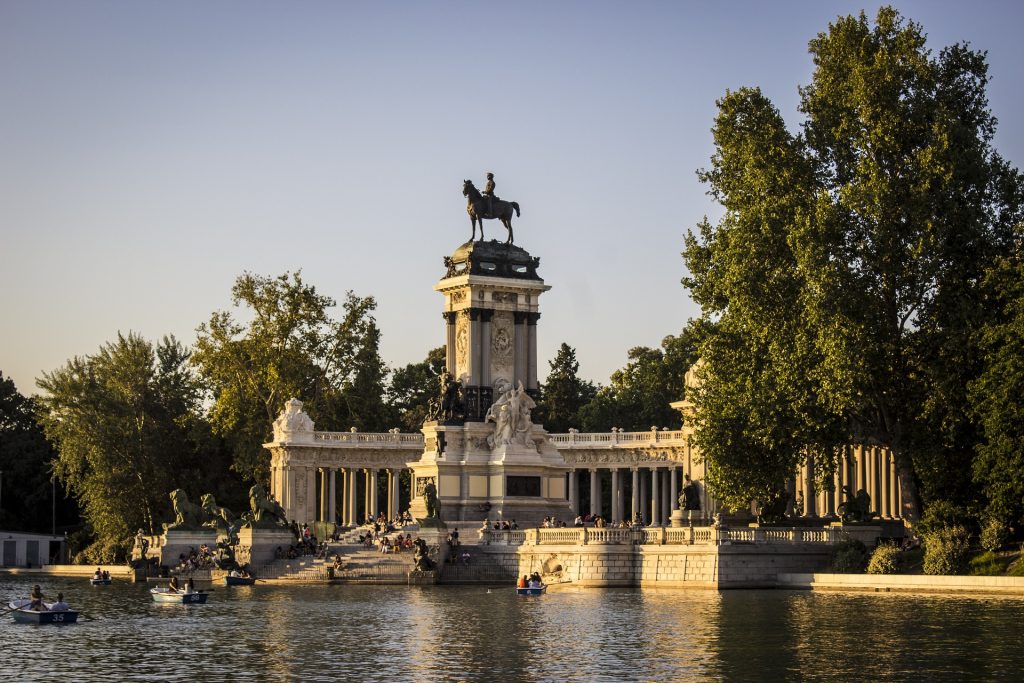 Is there a place that inspires you particularly?
«Parque del Retiro, in Madrid, one of the most beautiful parks in the world. Walking in its green, between lakes and impressive buildings where you can breathe art, culture and history is for me an inexhaustible source of inspiration. Not only some of my poems were born there, but the whole story of "Mina, the fairy of the crystal lake" is set in the park and, in particular, in the area of the Palacio de Cristal, a magical place par excellence».
Rome and Madrid, two cities that belong to you, even if in a different way. Which is you relation with them?
«Rome is my city, because I was born there, my affections, my family of origin, my friends, those you know will always remain by your side, at a distance of space and time. Madrid is my adopted city, which welcomed me like a daughter, who made me discover other aspects of me and my personality, who gave me the input to be able to dig into my soul and open it to this new world literature that has always played a fundamental role for me, but that I didn't know I loved so much. Rome gave me life, Madrid gave me a different opportunity to live it».
Elisabetta Bagli, from Rome to Madrid, chasing a dream ultima modifica: 2020-07-04T11:04:00+02:00 da