Federico Fellini, awarded with five Oscars, one of which Academy Honorary Award, is considered one of the greatest directors ever. 2020 marks the centenary of his birth, with initiatives that dot Italy and the whole world. But perhaps not everyone knows that Fellini was a complex and mysterious man, who sowed lies and secrets throughout his journey.
Fellini liar
The great director was famous for his lies. So much so that there is a documentary film of 2002 written and directed by Damian Pettigrew, based on the latest confessions by Federico Fellini which is entitled "sono un gran bugiardo", that is "I'm a great liar". His conversations were combined by real things mixed with his inventions, often used with subtle irony. As a good liar he said he was of "shameless sincerity". Alberto Sordi, who knew him well, replied that "Fellini is the greatest liar he has ever known". While Paolo Villaggio said "Like all great storytellers, he was an immense faker".
To understand how much he mixed his conversation with lies, just remember a famous episode. A journalist had been asking him for an interview for months. Each time he invented a different excuse, each time more brazen. The two met by chance in Via Veneto: "But Federico, did you tell me you were leaving for Hong Kong and instead you are here in Rome?". And the director replied immediately: "You are wrong: you are in Rome, I am in Hong Kong". On the other hand, it was Fellini who said: "the most real things for me are the ones I invented". To better understand this aspect it is fun to read the interview that Oriana Fallaci did to him.
Federico Fellini occultist
Perhaps not everyone knows that the great director constantly resorted to occultist practices and frequented magicians and seers. One of these visionery managed to unmask the author of the anonymous letters in which every clandestine encounter between her husband and Sandra Milo was revealed to Juliet. His attendance with Gustavo Rol is particularly known. The director told him about many wonders, from the telekinesis with which he moved objects from one room to another, to the time in which he had replaced the heels of his shoes from a distance, to the time in which he had materialized a hat inside a box. But it was Fellini himself who told these wonders. The same one who told lies. In fact, Paolo Villaggio declared that Rol's wonders had been invented by Fellini…
Incomplete Fellini
The great director could not to do everything he wanted: there are many subjects that did not become films and some did not pass from his imagination to paper.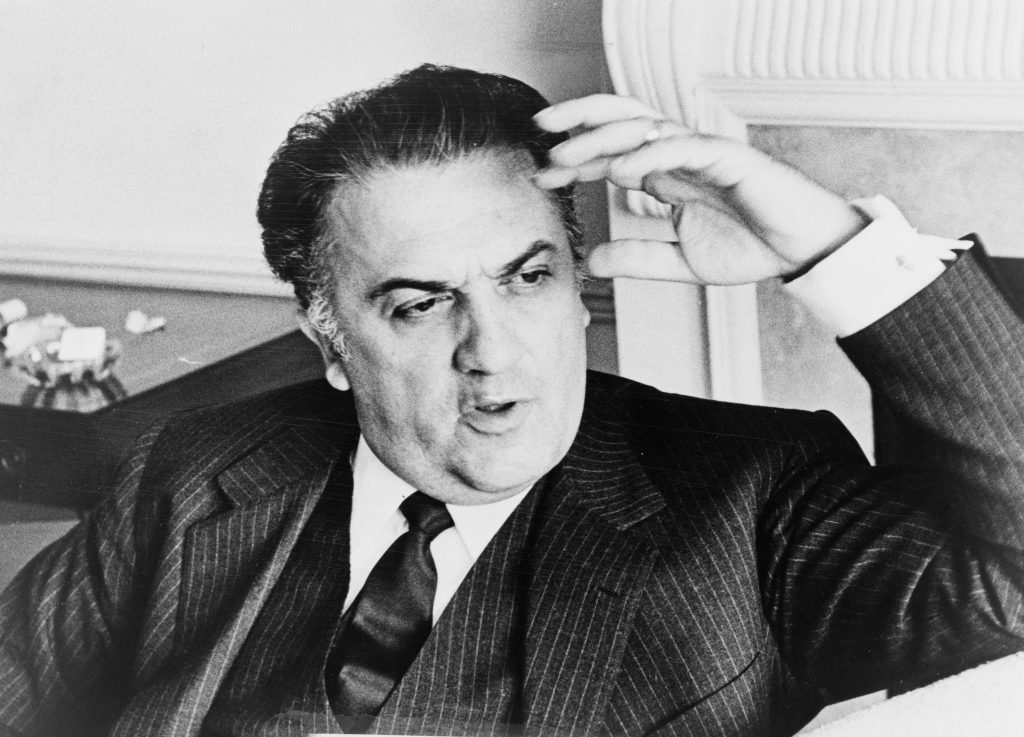 The most famous is undoubtedly the "Journey of G. Mastorna, called Fernet", on which Dino Buzzati also collaborated and that Vincenzo Mollica called "the most famous unrealized film in the world". However, it will become a comic book by Milo Manara. Fellini made a trip to Mexico in 1985, chasing the places of Castaneda. And in fact it was a journey full of strange episodes. He would have liked to draw a film from that experience, entitled "Journey to Tulun". But the film never went through.
Federico and Juliet
The relationship between the director and Giulietta Masina was decidedly unusual and deserves books and books. They met in 1942, married in 1943. They had one son, who died a month after birth. "Having no children," said Masina, "made us become the son and daughter of the other, as fate would have it" They stayed together for half a century. Fellini inserted mysterious elements that told the strange story of Juliet both in Strada and in Giulietta degli Spiriti and in other films. But the director did not stop falling in love with other women. Like Anna Giovannini, the pharmacist who has been his hidden passion for more than 30 years, with whom he had no problem to be out in plain sight. Or Sandra Milo, who has been her lover for 17 years. But all this did not end the love that bound Giulietta and Federico.
Federico Fellini from Romagna
We always remember that Fellini was from Romagna, or rather from Rimini. On the other hand, he won the Oscar for a Romagna expression like "Amarcord". And anyone who knows that land knows that the director has managed more than anyone else to embody its deepest spirit. In reality, Fellini left Romagna when he was 19 and ended up crystallizing a youthful memory that moved further and further away from reality. It could be said that Fellini's Romagna was more Romagna than the real one. Always on the assumption that the lies, the fruit of his imagination, remained the most real things… Fellini's magic.
Federico Fellini, his lies and his mysteries ultima modifica: 2020-02-06T11:00:40+01:00 da