I have always loved pesto alla genovese like many other Ligurian dishes.
Then I started hearing about parsley pesto, zucchini pesto and rocket pesto (whose flavor I've always been in love with). This idea was born from the curiosity for the taste of this very particular pesto with a light and very pleasant bitter note. So I tried to use the rocket pesto in a very summer version, version in which I usually use the Genoese pesto: a fresh rice salad, I liked the experiment.
Production time: 2 hours
Degree of difficulty (from 1 to 5): 2
Coppapasta diam. 9 alt. 4 cm.
Ingredients for 4 people
For the rocket pesto
100 g of fresh rocket
100 ml of extra virgin olive oil
50 g of Parmigiano reggiano
1 clove of garlic
50 g of Pecorino
50 g of pine nuts (or walnuts, if you prefer)
Salt to taste
Freshly ground pepper to taste
For rice
200 g of original rice (I used an Indian rice that has a cooking time of about half an hour but in the end it is very similar to the original then in short we are Italian)
Rocket pesto to taste (depending on how rich you want it)
15 cherry tomatoes
a buffalo mozzarella (or normal if you prefer … or even smoked)
80 g of fontina cheese (or smoked scamorza cheese)
1 pack of fresh champignons (usually contains about 15 champignons)
2 tablespoons capers under salt
120 g of roast ham
50 g of Pecorino
Salt and Pepper To Taste
Plating
3 medium-sized carrots
20 cherry tomatoes
25 pitted and drained green olives
30 cherry tomatoes
30 strands of chives
some chopped walnut kernel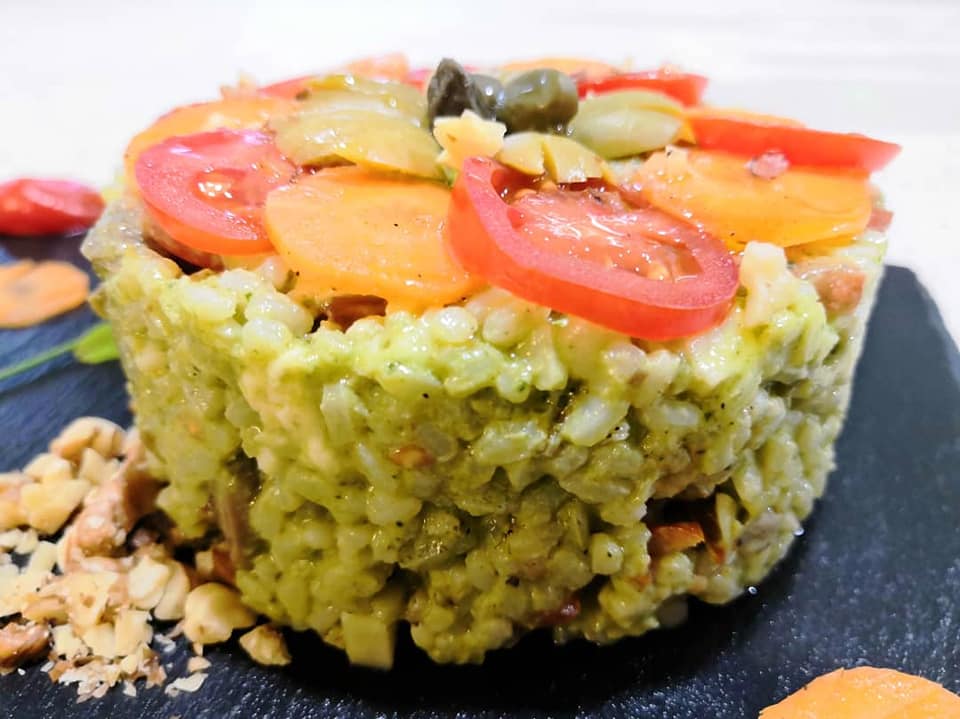 Process to make the rice salad among flowers
For the rocket pesto
To prepare the rocket pesto, simply pour the rocket, pine nuts and the other ingredients into a mixer and chop until you get a smooth and creamy mixture. Once made, the rocket pesto can be kept for 2-3 days in the refrigerator. A tip: pour a little olive oil on top, so that the oil helps the preservation. Prefer a hermetically sealed jar to prevent your rocket pesto from losing its freshness.
Prepare the rice
Cook the original rice in salted water al dente following the cooking times indicated on the package.
Drain it and cool it immediately (and well) under running water.
Put it in a bowl, add a little olive oil (extra virgin olive oil) and set aside.
Stew the mushrooms
Cut the cleaned champignons into slices only with a cloth (never wash them … they ruin) and then in a pan with oil, garlic, salt and pepper and let it go until the mushrooms are beautiful, if they tend to stick, add just a little of water (or white wine).
When cooked, sprinkle with ground parsley.
Give it a nice stir and set aside and let it cool. Cut the cherry tomatoes in half, remove the seeds and cut them into very small cubes. Then cut the mozzarella into very small cubes. Cut the fontina into very small cubes. Desalt the capers keeping them under running water in a normal sieve. Cut the slice of roast ham into very small cubes. Then cut the pecorino into very small cubes. Cut the carrots into very thin slices and season them in a bowl with oil, salt and pepper and set aside. Cut the pitted green olives in half and cut some halves on each half to make them look like flowers and set them aside. Some cut them into pieces. Cut a dozen small tomatoes in half, remove the seeds and also make some flower-shaped cuts in these. Cut the cherry tomatoes into very thin slices.
Now mix together:
Rice
rocket pesto (if you have kept it in the fridge immediately before adding it to the rice, you can add a little boiling water to cook the rice to make it more fluid and better mixed with rice)
diced cherry tomatoes
cubed mozzarella
cubed fontina
cold stew champignons (drain any excess water)
desalted capers
diced roasted ham
diced pecorino cheese
Mix everything to perfection.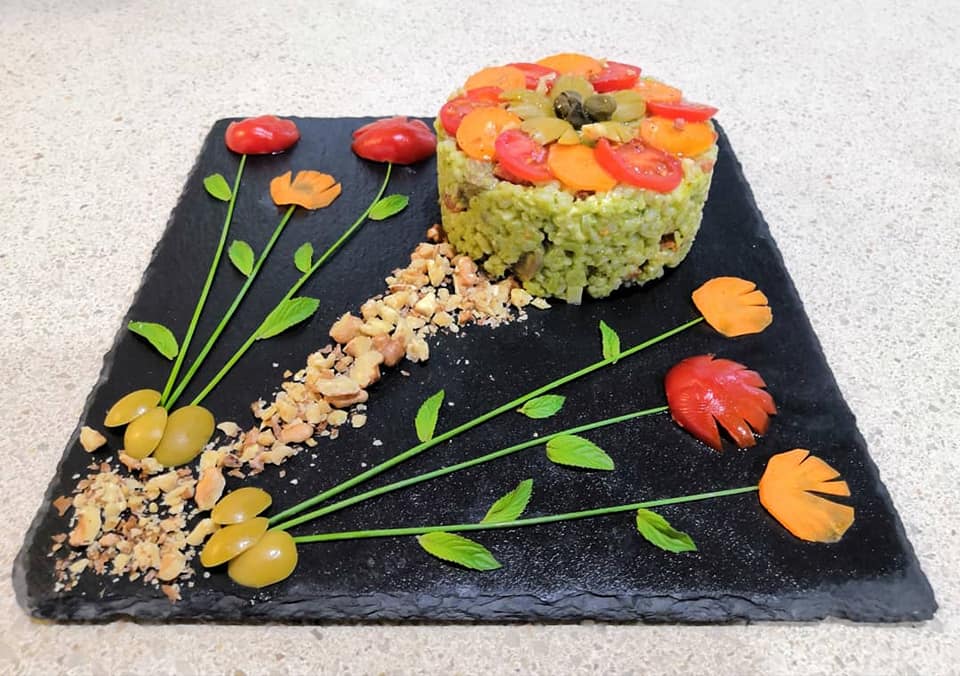 Plating
Place the pastry cutter on the serving plate. Fill it with rice and press the rice to give it the shape of the pastry cutter. Tighten it well. When the content is firm, take the pastry cutter out. Decorate the rice alternating slices of carrot and cherry tomatoes. Place carrots and cherry tomatoes 5 or 6 flower-cut olives in the center. In the middle of the olives place 3 capers, desalted
Then place the chive strands on the plate as you see in the picture, three on one side and three on the other. At the base of the wires put small pieces of olives in the garden and at the apex small tomatoes and flower-cut carrots.
I also put the chopped walnuts but I am sorry they don't look good if you put a few of them or even scattered on the "patty".
The recipe was made by Daniela Mussini.
Rice salad among flowers ultima modifica: 2019-09-18T12:15:09+02:00 da
Lascia il tuo voto: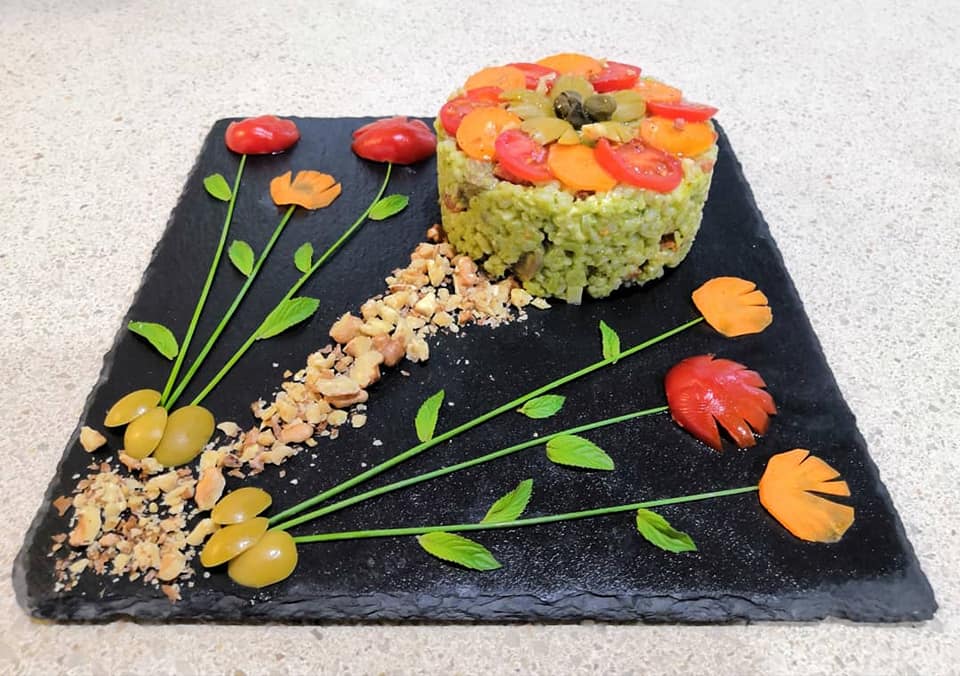 Nome Ricetta
Rice salad among flowers
Nome Autore
Marco Spetti
Pubblicato il
Tempo Totale