Italy attracts tourists from all over the world for its history, its culture, its art and also for its Mediterranean cuisine. In fact, in 2010 the Mediterranean diet was recognized by UNESCO as an intangible heritage of humanity. One of the main characteristics of Italian cuisine is its simplicity, another is the profound variety and diversity that can be found moving from north to south, from region to region, from province to province.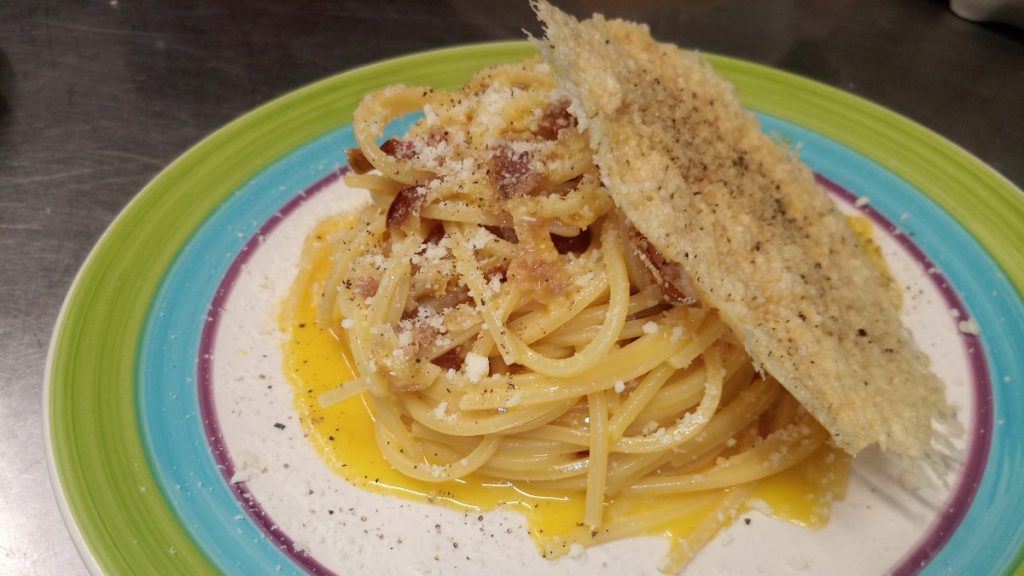 Traditional recipes over the centuries have been handed down from generation to generation within families and enhanced and elaborated by great chefs in restaurants. One of the most famous products of Italian cuisine, besides the good Neapolitan pizza, is without a doubt the pasta that can be fresh, dry and stuffed, enhanced by a vast variety of condiments. Among these pasta carbonara has a dominant place.
The origins of pasta carbonara
There are several theories about the birth of carbonara pasta but, today, the most accredited one seems to be the one told by Renato Gualandi, a cook of Bolognese origin who, in 1944, was commissioned to prepare a lunch in Riccione for the English and American Army. Having the bacon, milk cream, cheese and egg yolk powder at his disposal, he mixed these ingredients and used them to season the pasta, finally adding black pepper. He did not know then that he had created a world-famous dish.
A version of history also linked to the American army is the one that tells how a group of American soldiers, passing through Abruzzo and the Ciociaria where they recovered guanciale and smoked pancetta with a taste similar to bacon, found themselves in a trattoria in via della Scrofa in Rome. Here the skill of a Roman chef combined these ingredients with powdered milk creating a sauce for spaghetti.
Other hypotheses are the Apennine and Neapolitan ones
The Appennine hypothesis would like the carbonara pasta to be born as an evolution of the "cacio e ova" dish (Lazio and Abruzzo) that the charcoal burners prepared to face the long working hours necessary for the production of charcoal. The second hypothesis refers instead to the treatise by Ippolito Cavalcanti of 1837 "Theoretical and practical cooking" in which you can find different recipes that involve the use of eggs, cheese and pepper even if in ways that do not really have to do with the carbonara pasta recipe, such as pasta in broth (egg used as a thickener), pasta balls or pasta timbales.
Another treaty of 1881, "The Prince of Cooks", by Francesco Palma proposes macaroni with cheese, eggs and lard. There are many versions of the history on Carbonara origins and probably we cannot be absolute certaint about which one is true. Certainly there is that, however it was born, today it is a typical dish of Roman cuisine.
Recipe books
Resuming the discussion on recipe books, we would like to recall how the guanciale used to season pasta appeared in 1949 in the work "The small talisman of happiness" by Ada Boni. Here the recipe for preparing spaghetti with guanciale is present but does not include eggs. The first recipe for carbonara pasta seems to have appeared in a guide to Chicago's North Side restaurants by Patricia Brontè, where, reviewing the Armando's restaurant, the author proposes a precise recipe. In Italy the first recipe is published by the magazine "La Cucina Italiana" in 1954 where it is proposed with eggs, bacon, gruyere and garlic. Even if the presence of gruyere and garlic today is turning up our nose we consider that in those years it was an evolving recipe. On an Italian cookbook it appears instead in 1955 when Felix Dessì proposes a version with eggs, pepper, pancetta and parmesan or pecorino. Guanciale will start to be used in the 1960s. Until the eighties even the cream will be present in numerous recipes, including the one proposed by chef Gualtiero Marchesi. Over the years the recipe evolves into what we know today, which involves the use exclusively of eggs, bacon and pecorino.
How to prepare pasta alla carbonara?
Despite being a dish that lends itself to numerous reinterpretations, here we propose the recipe that we now recognize as traditional. Let's start with the pork cheek (preferably from Amatrice) which must be sliced quite thin and then cut into strips, we use 100 gr. for four portions. Using a non-stick pan, without oil or butter, and starting "cold" so as not to burn it. We brown the guanciale melting the fat and making it crunchy.
In a bowl we put 6 egg yolks and 50 gr. of pecorino romano (aged at least 12 months) grated. With a whisk, we mix everything. In many recipes pepper is also added to this compound. I prefer to put it at the end so as not to darken the egg yolk.
Meanwhile, we cook the spaghetti (or another format of pasta, rigatoni type for example) in abundant salted water. (I advise you not to salt too much because the guanciale will give enough flavor to the dish). Once it is al dente, drain it, taking care to keep a little cooking water. Pour it into the pan together with the guanciale. We jump briefly to flavor and remove the pan from the heat. At this point, add the egg and cheese mixture and the black pepper and mix everything together adding a little cooking water to make the seasoning more fluid. We serve immediately. To decorate the dish we prepared a pecorino wafer and added a sprinkling of pecorino.
Enjoy your meal…
Pasta carbonara… a delicious Roman dish ultima modifica: 2019-11-11T10:15:58+01:00 da